BEIJING – When Shen Si launched Papaya Mobile in 2008, she saw it as a social mobile gaming company that would bring gamers together.
Six years later, the CEO is shifting the company away from games and into "programmatic advertising" with the introduction of AppFlood, a new platform for game developers that is reporting an estimated 400,000 installs and more than 800 million ad views per day.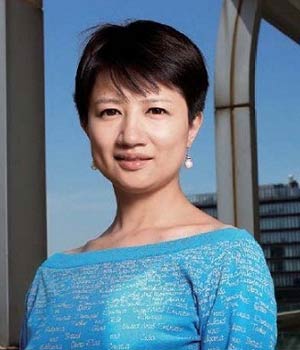 Shen Si, CEO of Beijing-based Papaya Mobile.

[Provided to chinadaily.com.cn]
"The shift wasn't very easy. We had so many users on our social gaming platform," said
Shen
. "Most of our employees were experts in building social platforms and not experts in building advertising platforms. It took us some time to transition. We didn't layoff any people."
Programmatic advertising is the process of buying and selling digital advertising using computer math solutions instead of traditional human buyers and sellers.
Computers have an automated process for buying and trading ads. By replacing humans in the equation, programmatic advertising makes ads cheaper to buy. Online media outlets, such as Digi Day and others, have called this process the future of advertising.
Released in 2012, Appflood was a free tool for game developers to add to their programs so they could trade advertising space and cross–promote games.
Today, clients such as Qihoo360, an online security company, approach Papaya for users and installations outside of China. According to Shen, each day more than 400,000 user install an application that is part of AppFlood's network.
More important to the advertiser, Papaya claims that over 800 million ads are shown per day.
To Shen, the focus right now is on Western markets and better user retention rates. Shen is bullish on market opportunities in Southeast Asia, Brazil and Middle East.
"Right now, we're seeing really fast growth happening in China. Crazy growth," said Shen. "Recently, a lot of companies have gone public in the US and a lot of companies are putting resources into the Western and US markets."
Si's original vision for Papaya Mobile was a company that provided a gaming platform similar to Facebook where gamers could interact with each other.
Papaya Mobile also developed a digital currency system that allowed users to trade and use currency on the Papaya network, like in-game coins that work across multiple games.
But for Shen, a former Google product manager, the rise of Papaya Mobile has not been an entirely easy ride. For example, in 2009 all the company's games were taken down from the Apple iOS app store.
Frantic for the future of her company, Shen traveled all the way to Apple headquarters in Cupertino, California, and waited seven hours for an Apple staffer to help. In the end, Papaya had to re-upload their apps and move many of them to Google's Android platform.
By 2011, Papaya had registered over 80 million users with apps on both the Apple iOS and Google Android platforms. Shen said convincing her team that moving from a trusted and working business model, to something new, was the right decision.
"I've been working on this company for six years and there were definitely ups and downs," said Shen. "We were working on something else and right now we're focusing on AppFlood.
"We do think AppFlood is something that is going to take us to the next level."