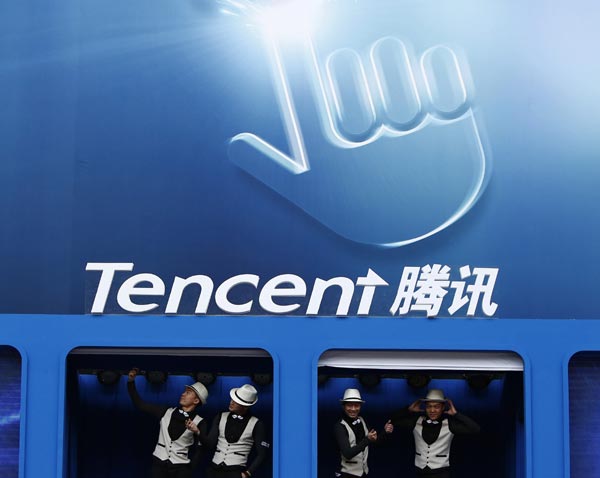 Dancers perform under a logo of Tencent Holdings Ltd at the Global Mobile Internet Conference in Beijing. The company recently launched securities and wealth management services on its live chat tool QQ. Kim Kyung-hoon / Reuters
Tencent Holdings Ltd has launched securities and wealth management services on its live chat tool QQ, diving further into Internet finance.
The Shenzhen-based company teamed up with five securities firms on Wednesday to offer one-stop financial services online, including setting up securities accounts, customer services and stock exchange services, to its vast base of QQ users.
The five companies (Zhongshan Securities Co Ltd, Tongxin Securities Co Ltd, China Dragon Securities Co Ltd, Chinalion Securities Co Ltd and Guangzhou Securities Co Ltd) are the first group of securities firms to set up online finance businesses on QQ.
The social networking tool is expected to team up with more securities companies to offer similar services in the future.
Tan Yi, deputy manager of Tencent's social networking group, said that the company has a vast number of users. The top priority for Tencent, which has built its business empire on all kinds of social tools, such as QQ and WeChat, is to offer more and better services to its users.
"On the one hand, we need to identify the services that can meet the demand of our individual users. On the other hand, we need to help enterprises connect with end-users, matching their services with our users," he told a news conference in Shenzhen on Wednesday.
On the same day, Shenzhen Kingdom Technology Co Ltd, a financial software and system integration producer, announced a partnership with Tencent covering the marketing and sales of QQ.