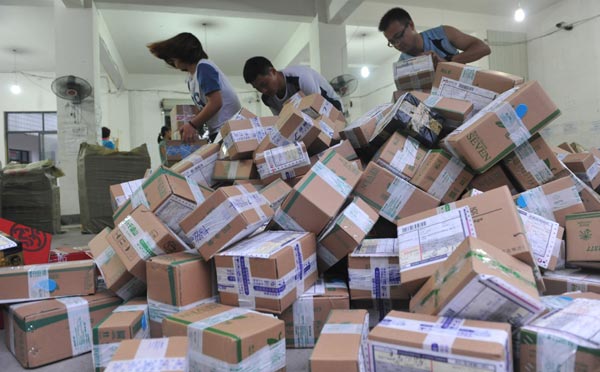 Workers sort online shopping parcels at a logistics company in Hangzhou, Zhejiang province. Chinese online retailing is expected to show a compound annual growth rate of 22.3 percent over four years. [Photo/China Daily]
Firm joins with Tencent, Baidu in venture said to be worth as much as 5 billion yuan
China's leading property developer Dalian Wanda Group Co Ltd is about to set up an e-commerce joint venture with Internet companies Tencent Holdings Ltd and Baidu Inc.
The investment will be as much as 5 billion yuan ($813 million), according to a source close to the matter, and Wanda will hold 70 percent of the venture while Tencent and Baidu will share the remaining 30 percent equally. The investment will be announced on Friday, the source added.
In late July, China's richest man, Wang Jianlin, founder and chairman of Wanda, said during a company meeting that Wanda will team up with several leading Chinese e-commerce players to set up an e-commerce company.
Although it is unclear what the structure and activity of the joint venture will be, the three companies all have a strong intent to march into the booming e-commerce industry, said Zhang Zhouping, a senior analyst at China E-Commerce Research Center.
According to Zhang, Tencent and Baidu have both had previous attempts at e-commerce but none of them turned out to be a huge success. However, they are keen to pursue a sector that is changing the entire market landscape.
As a commercial property leader, Wanda has abundant retailing resources and also experience in online-to-offline operations, which will be a huge benefit to the two Internet companies.
Growth in e-commerce through personal computers is stagnant, but mobile e-commerce is surging thanks to the generation born in the 1990s whose shopping habits are different. The Internet leaders Tencent and Baidu will certainly do a good job of capturing these targets, Zhang added.
"But as more details of the joint venture are unknown for the time being, it is too early to say that it will pose any challenge to China's largest online company, Alibaba Group Holding Ltd," he said.
In online shopping, China exceeds the global average in all product categories, often by a large margin.
For 18 out of 22 product categories, China sees the highest percentage of respondents who are willing to buy online compared with the remaining 59 countries and regions covered in the latest survey released by leading global information provider The Nielsen Co.
In 13 out of 22 different product categories, more than half of Chinese respondents said they intend to make an online purchase within the next six months, according to the survey.
"The deep penetration of smartphones and Internet, combined with the comprehensive buildup of shipping logistics infrastructure, are quickly transforming the shopping habits and mindset of Chinese consumers on e-commerce," said Patrick Dodd, managing director of Nielsen China.
Online retailing has grown by leaps and bounds in China. According to research released by UK-based property consultancy Savills Plc on Wednesday, Chinese online retailing is expected to show a compound annual growth rate of 22.3 percent over four years, with sales totaling 4.5 trillion yuan by 2017.
Gao Yuan in Beijing and Li Wenfang in Guangzhou contributed to this story.