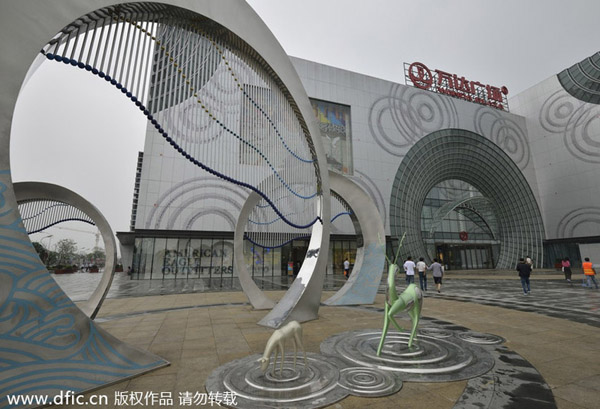 Visitors walk into a Wanda Plaza in Shanghai, on June 17, 2014. [Photo/IC]
Dalian Wanda Commercial Properties Co Ltd's plan to go public in the A share market has been terminated by China Securities Regulatory Commission, as the company didn't update its IPO application documents in a timely manner, according to a statement by the Commission on Tuesday.
The announcement signals an end to the company's four-year listing preparation.
Meanwhile, Wanda Cinema's plan to list in the small and medium-sized plate of Shenzhen Stock Exchange has also been terminated. Wanda Group bought AMC Entertainment Holdings Inc for $2.6 billion in May 2012.
Wanda said it will continue to seek other methods to go public in the future.
"Given the large amount of financing demand for real estate business, it's very hard for companies like Wanda Group to go public as a whole," Song Yanqing, chief executive of Lande Consulting Group, a real estate consulting firm, told The Beijing News.
Song said the termination will not have a significant impact on the company's commercial real estate business, as the group maintains a strong capability of financing and a standard model of business development.
According to the July 1 announcement, China Securities Regulatory Commission has terminated the IPO applications of 129 companies so far this year, including Huishang Bank. Among the total, 97 withdrew their applications.