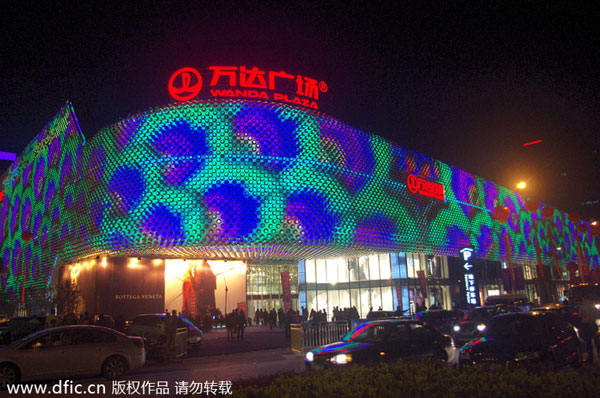 Photo taken on Sept 28, 2013 shows the night view of the Wanda Plaza in Wuhan, Hubei province. [Photo/IC]
Conglomerate Dalian Wanda Group Corp Ltd announced on Friday the purchase of a landmark commercial project in Madrid for 2.25 billion yuan ($364 million), the latest in a series of high-profile international acquisitions.
Wanda bought the high-rise building from Spanish bank Banco Santander SA, which also has businesses in retail banking, asset management and insurance.
The purchase was conducted through Hong Kong subsidiary Wanda Commercial Properties (Hong Kong) Co Ltd and its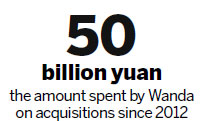 Hong Kong-listed arm Wanda Commercial Properties (Group) Co Ltd, which is controlled by Wanda Commercial Properties (Hong Kong) Co Ltd.
The listed company said in a statement to the Hong Kong stock exchange that the property will be redeveloped into "a high-end, mixed-use complex comprising residential, hotel and retail" space with a gross floor area of about 83,228 square meters.
The complex will feature a 200-room luxury hotel, retail space and about 300 apartments.
Total funding of HK$3.7 billion ($477 million) has been committed for the development.
Wanda said in the statement that the property's exceptional location and valuation, combined with the local government's plan to renovate the neighborhood, prompted the purchase.