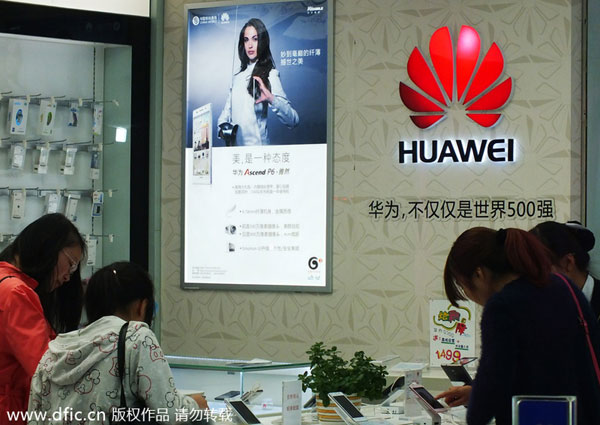 Customers shop for Huawei smartphones at a store in Yichang, central Chinas Hubei province, 6 November 2013. [Photo/IC]
Telecommunication equipment major Huawei Technologies Co Ltd said on Friday that it anticipates a substantial pickup in its corporate business in Japan by 2017.
The Chinese company expects corporate business in Japan to be 15 times higher than last year's level by 2017, and hopes to realize revenue of over 50 billion yen ($488 million) by that time. Huawei also indicated that the growth would be driven by the sales of telecommunication products to large corporates and the growth in new orders, as a result of competitive pricing.
The Shenzhen, Guangdong-based company, however, refused to disclose further details about the Japan plans.
Winning over corporate clients in overseas markets will prove to be a difficult task for the Chinese company as it is different from its normal practice of working with foreign telecom carriers, said Milly Xiang, chief telecom analyst at research company IDC.
"Japanese network equipment providers are considerably strong in their home turf and also have channel advantages. The US-based networking major Cisco Systems Inc had earlier tried to make inroads into the Japanese market, but could not do so," Xiang said. Huawei may also lose out on government procurement deals due to the ongoing territorial disputes between China and Japan, sources said.
The Chinese company, however, is looking to win orders from sectors such as banking, transportation and energy in Japan.