The Madrid project could be the first of a series of acquisitions that Wanda makes in Europe.
According to the statement, a new entity called Wanda Europe has been created specifically for the acquisition and development of properties in Europe. The new company has funding of HK$12.5 billion.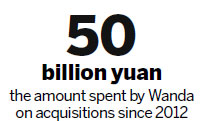 "The board is of the view that as Continental Europe emerges stronger from the recent financial turbulence and challenges, it presents attractive long-term investment opportunities in the property sector. Such opportunities are in line with the group's strategy of seeking to diversify its sources of income," said Wanda Commercial Properties (Group) Co Ltd in the statement.
The Madrid deal is part of a plan that Chairman Wang Jianlin revealed earlier that involves the establishment of Wanda hotels in 10 major overseas cities over the next eight to 10 years.
Wanda, which has interests in commercial property, luxury hotels, tourism and department stores, has been active in making cross-border deals in recent years.
It has spent more than 50 billion yuan since 2012 on acquisitions. In June last year, Wanda acquired United Kingdom-based yacht builder Sunseeker International Ltd for 320 million pounds ($536 million).
In May 2012, it bought AMC Entertainment Holdings Inc for $2.6 billion, including debt, making it the biggest theater operator in the United States.