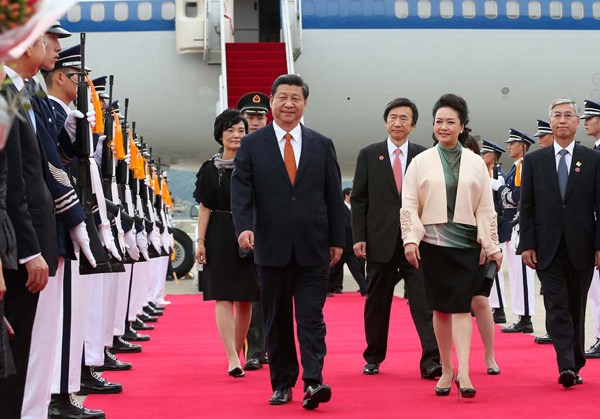 Chinese President Xi Jinping and his wife Peng Liyuan receive a red-carpet reception and are greeted by a 21-gun salute upon arrival in Seoul on July 3, 2014.[Photo/Xinhua]
SEOUL - Chinese President Xi Jinping's visit to South Korea on Thursday and Friday is expected to greatly advance the negotiations on a bilateral free trade agreement (FTA).
With an eye on a comprehensive, balanced and high-level FTA as soon as possible, China and South Korea launched the negotiations in May 2012 and have conducted more than 10 rounds of talks.
The China-South Korea FTA, when finalized, will help the two countries improve mutual complementarity of markets and strengthen the foundation for regional economic integration, said Lee Hee-Ok, professor at the Seoul-based Sungkyunkwan University.
China and South Korea should speed up negotiations on the free trade pact and reach an agreement at an early date, said Zha Daojiong, a professor with the School of International Studies in Peking University.
Both countries should encourage more enterprises to participate in the FTA and further unleash the huge potential in bilateral economic and trade cooperation, Zha said.
Meanwhile, Xi's South Korea trip, his first since he took office last year, will provide an opportunity for the two sides to further deepen economic and trade cooperation by identifying the converging points in their respective long-term economic strategies and exploring new cooperation potential.
Since China and South Korea forged diplomatic relations in 1992, bilateral economic and trade relations have developed in leaps and bounds.
Two-way trade surpassed $270 billion in 2013, an increase of 7 percent year on year, equalling South Korea's trade volume with the United States and Japan combined.
China is South Korea's No1 trading partner, largest export destination and import source, and No1 destination of overseas investment. South Korea is China's third largest trading partner and fifth largest source of foreign direct investment.
Furthermore, the two countries have expanded their economic cooperation to the financial sector. Yuan settlement and investment are poised to become new bright spots in the China-South Korea financial cooperation.