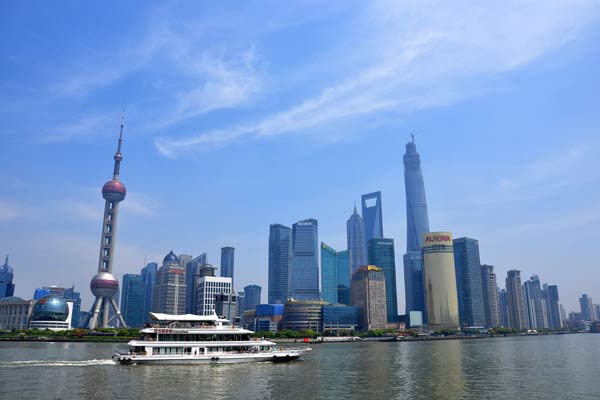 Alipay, a financial affiliate of Alibaba Group Holding Ltd, is considering moving to the Lujiazui financial district in Shanghai. XU CONGJUN/CHINA DAILY
Alipay, the world's largest mobile payment company and a financial affiliate of Alibaba Group Holding Ltd, is planning to move to Shanghai's Lujiazui financial district in order to reinvent itself as a financial institution rather than just an Internet company.
Currently headquartered in Hangzhou, Alipay will leave the Zhejiang provincial capital to make it easier to do business in Shanghai, said a person with direct knowledge of the move who asked not to be identified.
Several other units under Alibaba's finance arm of Zhejiang Ant Small & Micro Financial Services Group Co are already in Shanghai. The person didn't specify when the relocation would be complete, Bloomberg reported.
Zhejiang Ant got approval last month to jointly set up a bank and aims to create a marketplace for 1 trillion yuan ($163 billion) worth of loans in within the next two years. The finance arm is controlled by billionaire Jack Ma. In addition to the Paypal-like Alipay, it also owns a small-business lender, a money-market fund known as Yu'ebao.
Alibaba's public relations department declined to comment on the matter when reached by China Daily.
In May 2012, Alipay reserved an office building that is still under construction in Lujiazui financial district, according to an announcement by Lujiazui Group.
The building, which is expected to be completed in 2018, has more than 47,000 square meters of office area and is priced at about 3 billion yuan. Alibaba will be neighbors with Taikang Life Insurance Co Ltd, which paid 5 billion yuan for another building in the same complex.
Alibaba, China's biggest e-commerce operator, was built from the ground up in Hangzhou, a city of 8.8 million people about 160 kilometers southwest of Shanghai.
The company last month completed the world's biggest ever IPO, making its founder Ma the richest man in the country with a fortune of about 150 billion yuan, according to the Hurun China Rich List.
Alibaba will get at least $9.4 billion from the future value of its finance affiliate if Alipay goes for an IPO after striking a new deal with the payment processor, the company said in its pre-IPO filings.
Huang Zhen, a professor at Central University of Finance and Economics, said Alipay's move to Shanghai is being made so it can enter the financial sphere.
"Shanghai is the financial center in China," Huang said, adding, "Online payment is a vital part of all banks, and Alipay's presence in Lujiazui will better support the nearby financial institutions."
Farhan Faruqui, CEO of international banking with Australia & New Zealand Banking Group Ltd, said the sound infrastructure, high-quality talent and prime location help distinguish Shanghai from other cities.
But, he said, "It will takes three to five years for Shanghai to build a global financial center."
Meng Jing and Bloomberg contributed to this story.