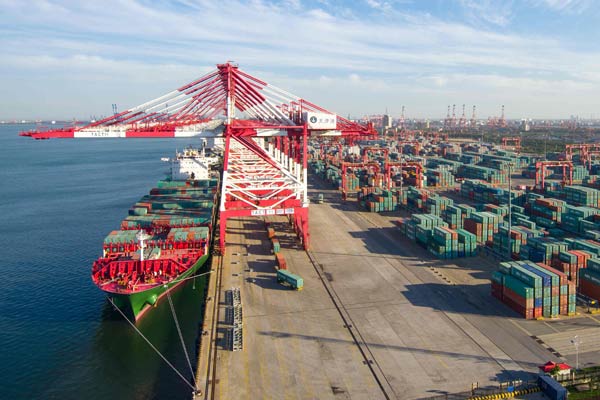 The container terminal of Tianjin port. Claiming to be the world's fourth-largest port by throughput, it handled more than 500 million metric tons of cargo last year, and hopes to do even more with its planned expansion. XINHUA
The State Council has approved a new round of expansion plans to further open the waters and shoreline in Tianjin. The project will see all the ports and docks in Tianjin open to the world.
"The plan will substantially lift the capacity of Tianjin port and help Tianjin become an international port city. Moreover, the policy clearly signals that the expansion will pave the way to facilitate free trade around the Bohai Bay Economic Rim and trilateral integration among China, Japan and South Korea," said Qin Haiying, professor at School of Economics, Nankai University.
East Asia, whose economies are growing faster than those of the European Union and North America, has fallen behind in terms of its integration level as it lacks an institutional framework for regional cooperation, Qin said.
Tianjin port handled more than 500 million metric tons of cargo last year. It is the world's fourth-largest port by throughput, and it handles international trade with more than 500 ports in more than 180 countries and regions.
The project will triple the space open to foreign-flagged cargo ships and from Hong Kong, Macao and Taiwan to 1,590 square km. It will extend the open shoreline to 148 km from 78.9 km. In addition, 71 new berths will be built to bring the total to 146, according to the State Council (cabinet).
"The project will help Tianjin port transform and upgrade with infrastructure construction. The building of new ports will help boost the regional integration of Beijing, Tianjin and Hebei province, and further drive the economic growth of surrounding regions such as Shandong and Henan provinces," said Gao Yuqing, deputy director of port management at the Tianjin Municipal People's Government.
Nangang port, which is located at the Binhai New Area on the coast of the Bohai sea, serves as a major port to support industries in Tianjin. It is likely to open to the world by 2015 with integrated customs services, Gao said.
Liu Gang, professor at the School of Economics at Nankai University, said the further opening of Tianjin port could lay the foundation for a free trade area encompassing Beijing, Tianjin and Hebei province.
"The Beijing-Tianjin-Hebei metropolitan area is an important economic growth area in North China, but it is behind in terms of its opening compared with the Yangtze River Delta. The core is to further open the area to facilitate trade and integrate the port and the city of Tianjin," Liu said.
The new policies saw the shares of Tianjin Port Development jump 10 percent to close at 11.88 yuan ($1.93) on Wednesday.