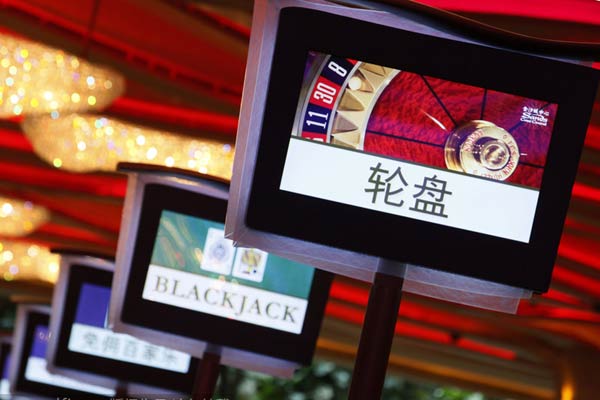 Display screens are shown at the gaming table inside a casino during the opening day of Sheraton Macao Hotel at the Sands Cotai Central in Macao, Sept 20, 2012. [Photo/IC]
As Hong Kong protesters were blocking roads and forcing shops to close, a record number of mainland tourists were occupying the streets of Macao.
More than 750,000 tourists from the mainland have poured into the world's largest gambling center since the National Day holidays known as Golden Week began Oct 1, with growth accelerating to 17 percent over last year. The surge came as the Occupy Central protests pushed Hong Kong into its worst chaos in decades and cut its rise in Golden Week visitors to 5.4 percent, compared with 16 percent last year.
"Occupy Central has boosted the retail market and brought more mainlanders to Macao," said Lei Kuok Keong, who plans casino trips for high rollers and is also vice-chairman of the Macao Gaming Industry Frontline Workers union. "Some Hong Kong people who wanted to avoid the protests also came to Macao. That has helped boost the visitor numbers to casinos."
That's been a dose of relief for Macao, which is experiencing its worst slump in casino revenue in five years. The nationwide graft crackdown has squeezed high-stakes gamblers, who account for more than 60 percent of the revenue in China's only enclave of legal gambling.
Macao casino stocks fell on Wednesday amid a broader drop in Asian markets. Sands China Ltd fell as much as 4.2 percent to HK$41.45 ($5.34) in Hong Kong trading, while MGM China Holdings Ltd and Galaxy Entertainment Group Ltd dropped 4 percent and 3 percent.
Casino operators are shifting their focus to China's growing middle class. That means catering to couples, families and gamblers who bet thousands of yuan instead of millions, a "mass-market" strategy adopted long ago in Las Vegas. The trick has been drawing enough people to make up for the drop in high rollers.
Take Jerry and Joycelyn Lu, who arrived in Macao from the eastern city of Nanjing with their two young children on Saturday. The family expected to spend at least 30,000 yuan ($4,900), including a stay at the Sheraton and 8,800 yuan for a Tissot watch. Jerry Lu said he would spend only about 1,000 yuan in the casinos, a sum he had already lost.
"We are not very keen on gambling," he said. "We would prefer to spend our money on dining and shopping."
The average daily revenue of Macao casinos was down an estimated 33 percent year-on-year during Golden Week, Cameron McKnight, a senior gaming analyst for Wells Fargo Advisors LLC, said on Tuesday. McKnight said fewer high-stakes players were visiting casinos.
During a visit to four Macao casinos on Monday, tables with lower minimum bets had more gamblers than those with higher ones. Customers also were scarce in the luxury shops at the Wynn Macao, where only a few people were seen browsing Louis Vuitton bags and Jaeger-LeCoultre watches.
Similarly, the economy section of a Shun Tak ferry from Hong Kong was almost full, while about two-thirds of the more expensive super-class seats were empty. Macao is located about 60 kilometers west of Hong Kong, roughly an hour's journey by ferry.
This year, more than five times as many Golden Week visitors arrived in Macao directly from the mainland. That may help explain why the gaming hub's traffic soared while Hong Kong's fell.
"Macao has gradually become a tourism destination of its own because it offers shopping, dining and entertainment experiences, such as boxing, concerts and gambling," Victor Yip, a Hong Kong-based analyst at UOB-Kay Hian Ltd, said on Tuesday.
"I would expect Macao to benefit from some travelers who avoided Hong Kong," Yip said.
As major Hong Kong retail chains reported declines in holiday sales of as much as 50 percent, shops fared much better in Macao.
Chow Sang Sang Holdings International Ltd saw sales at its five Macao jewelry stores rise more than 10 percent, with more than 90 percent of customers hailing from the mainland.