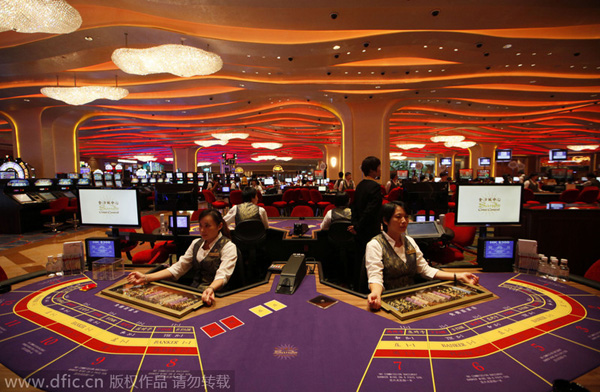 Croupiers sit at a baccarat gaming table inside a casino during the opening day of Sheraton Macao Hotel at the Sands Cotai Central in Macau, Sept 10, 2012. [Photo/IC]
Australians once rioted against Chinese migrants attracted by a 19th century gold rush. Now, Sydney's sole casino depends on the city's Asian ties for high rollers who provide almost one-third of its revenue.
Echo Entertainment Group Ltd is considering buying a golf course for a resort south of Brisbane, Chief Executive Officer Matt Bekier said, in order to entice Chinese gamblers who have driven a fourfold jump in Macao's casino revenue over the past six years.
Australian billionaire James Packer's Crown Resorts Ltd has spent $100 million upgrading its fleet of private jets for the same reason.
"For people to fly to Sydney from Macao, they're flying over some pretty attractive casinos along the way, and they wouldn't make the trip if there wasn't something unique here," Bekier said last week after the company posted a 25 percent jump in annual profit. "At least a third to a half of them have connections here."
Australian companies are looking to tap rising Chinese consumer spending as Beijing winds down an investment boom that spurred a surge in commodity exports following the 2008 financial crisis. China's shift toward consumption offers new opportunities for Australia to benefit from its biggest trading partner, Trade Minister Andrew Robb said in March.
Revenue at Echo's international VIP rebate business, which lures overseas gamblers with the promise of free hotel rooms, food, drink and transportation, more than tripled in the four years through June to A $397 million ($370 million), the company said.
High-stakes bettors accounted for almost two-thirds of Macao's $45 billion casino revenue last year. Macao is the world's largest gambling hub and the only Chinese city where casinos are legal.
The A $389 million in VIP sales at Echo's Star casino on the shores of Sydney Harbor was 30 percent of the site's A $1.28 billion gross revenue, according to a company presentation.
Crown Resorts, Australia's largest casino company, rose the most in almost a year in Sydney trading on Aug 14 after the company posted a 53 percent jump in second-half VIP revenue.
"The challenge remains to get the players to Australia," Chief Executive Rowen Craigie said on an investor call.
Melbourne-based Crown spent $100 million last year buying three Bombardier jets to replace its fleet of Gulfstream private aircraft for ferrying Asian VIP customers, the company said. It is also building a new high roller casino on the shores of Sydney Harbor close to Echo's Star, due to open in 2019.
"They're overflying, effectively, Macao, Singapore; they're turning down Vegas to get to Australia," Craigie said. "The first challenge is: How do you get them to fly to the most distant market where they're all playing the same game, which is high-stakes baccarat?"
Echo's VIP gamblers, who wagered an estimated A $29.1 billion this year as of June, frequently have family or business links that make Australia an attractive destination, Bekier said. The company's VIP revenue represents only the proportion of bets won by the house, which was 1.45 percent last year.
"If I look at the customers who come to Sydney, they very often have other reasons for visiting the city," he said.
People claiming Chinese ancestry made up 4.3 percent of the population in Australia's 2011 census, more than double the proportion with Indian or Greek roots.