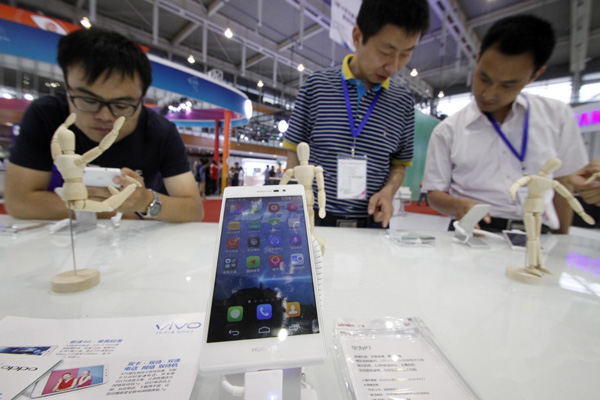 People look at the new handset during a mobile phone trade fair on June 27, 2014. [Provided to China Daily]
Smartphone retailers may be feeling a chill despite China's sweltering heat as sales for devices made by Apple Inc and Samsung Electronics Co are heading on a downward slide.
Industry insiders have warned independent handset dealers to find a new cash cow.
Chen Jun owns a booth at Top Electronics City in Zhongguancun, the largest smartphone marketplace in Beijing. The 43-year-old has started stocking mobile phone accessories in order to sell "something more lucrative than smartphones".
"The iPhone sales declined a few months ago, and I feel the Samsung devices may face a similar downturn soon," Chen said inside his 4-square-meter booth. He gestured toward the shopping mall. "Take a look around. Nobody relies on selling only Samsung and Apple products anymore."
Samsung is the biggest maker of smartphones sold through retail channels in China. More than 40 percent of its 10 million devices sold in the second quarter came from retailers such as Chen, according to research firm Gfk Retail and Technology China Co Ltd. Apple's retail outlets also sold nearly half of its total shipments in the country.
Retailers blamed Apple's once-a-year product introduction strategy for declining high-end devices sales.
Simon Jin, an account manager at Gfk, said he believes Apple sales have dropped due to the lengthy period after the company released the iPhone 5S. He added that the one-year gap caused sales to decline in many places.
"Chinese customers are losing their enthusiasm for iPhones and Samsung's flagship products," Jin said.
Less than a month before Apple is set to release its next-generation smartphone, Chinese retailers are finding it hard to clinch a preorder.
Some vendors in Zhongguancun set the preorder price at 10,000 yuan ($1,620), which most likely will be thousands of yuan above the official price.
The preorders they got were next to zero.
"Apple and Samsung are more dependent on retail channels than their local competitors, who enjoy above 10 million quarterly shipments," said Jin.
Chinese brands with the highest shipments mainly rely on orders from telecom carriers. Contract phone sales for ZTE Corp, Huawei Technologies Co Ltd and Guangdong-based low-end vendor Yulong Computer Telecommunication Scientific Co Ltd took more than 70 percent of the companies' total shipments, according to Jin.
"Lack of product innovation dragged down Samsung's market share in China," said Xu Hao, a researcher at Beijing-based consultancy Analysys International. "Apple could only protect its sixth position by expanding its 4G device sales."