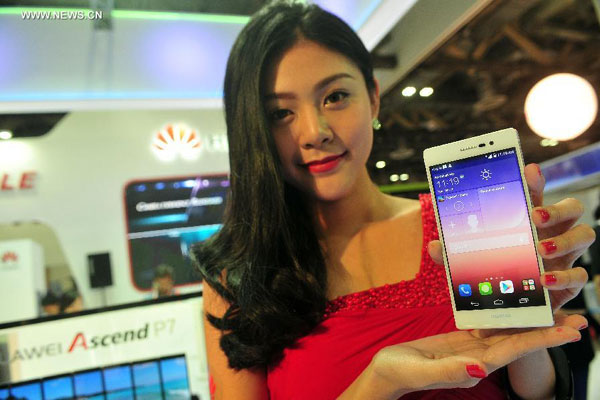 A model poses for photos with the latest mobile phone Ascend P7 from Huawei at the CommunicAsia exhibition held in Singapore's Marina Bay Sands Expo, June 17, 2014. [Photo/Xinhua]
SINGAPORE - China-based telecommunications giant Huawei is expecting better sales for its latest flagship smart phone Ascend P7, compared with its precursor Ascend P6, senior executives of the company said on Tuesday.
"We envision that LTE (long-term evolution) will experience major growth in the coming three years as the volume of high speed networks increases, leading to a surge in mobile data traffic," said Low Han Thong, country head of Huawei Device Singapore.
The
4G
LTE-enabled Ascend P7 was launched globally on May 7 at a ceremony in Paris. Executives of the company said that by June 13 it has sold over 1 million units. The company has set a target of 10 million units in 12 months, media reports said.
Huawei sold about 4 million units of the precursor Ascend P6, which was launched in June 2013. It proved especially popular in China and Western Europe, and the company has said it has helped Huawei gain a strong position in the premium segment.
The Ascend P7 is a significant improvement from its precursor P6, which is not 4G LTE-enabled. The P7 is powered by a HiSilicon Kirin 910T 1.8 GHz quad-core chipset and a Mali450 GPU. It features a 5-inch full high-definition display, an industry-leading 8-million-pixel front camera and a 13-million-pixel rear camera.
The phone is also slim at 6.5 millimeters thin and has an obviously more chic design than the Ascend P6.
Huawei has also held ceremonies to unveil the P7 for regional markets such as the Middle East on June 11 in Dubai, and the South Pacific on June 17 at the CommunicAsia in Singapore, respectively.
It is priced at S$699 in Singapore, 499 euros in Europe and 2,888 yuan in China, respectively. In comparison, the iPhone 5s is now selling at S$988 or above, or $649 and above.