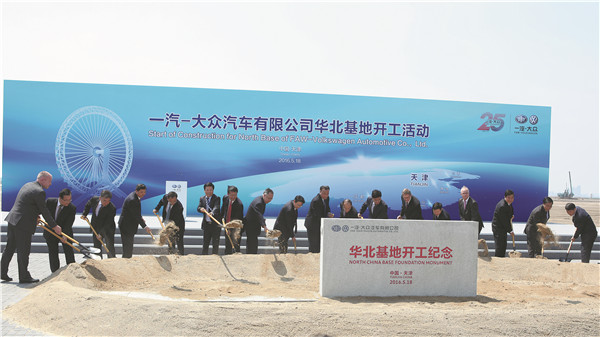 FAW-Volkswagen breaks ground on Wednesday on a plant in Tianjin that has the capacity to produce 300,000 sport utility vehicles annually. The Tianjin plant, specializing in SUVs, will start producing two of the brand's models in the fourth quarter of 2018.
The plant will help the joint venture meet its annual production and sales target of 3 million units by 2020, said Jochem Heizmann, president and CEO of Volkswagen China.
FAW-Volkswagen operates four production bases in Jilin, Sichuan, Guangdong and Shandong provinces, and plans to launch three SUV models in 2017.
With an investment of 19.5 billion yuan ($3 billion), the 1 million-square-meter plant will create about 6,000 job opportunities.