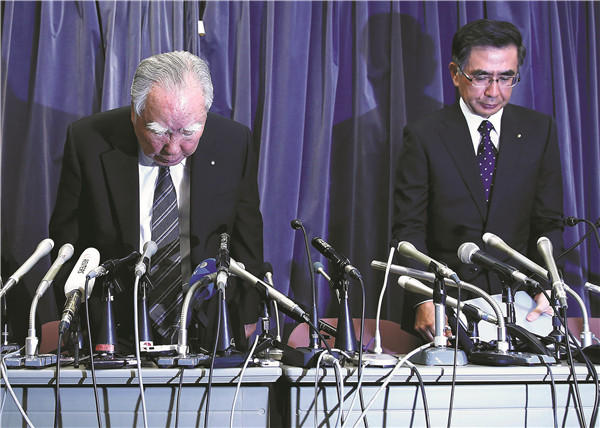 Suzuki Motor Chairman and Chief Executive Officer Osamu Suzuki (left) and President Toshihiro Suzuki bow during a news conference in Tokyo, Japan, on May 18. Suzuki said on Wednesday it had used tests that were not compliant with Japanese regulations, but added proper testing carried out later showed the mileage data did not need amending.[Photo/Agencies]
Japanese automakers are making headlines these days for their wrongdoing but their misconduct might prove positive for customers and automakers in China.
In late April, Mitsubishi Motors was forced to admit it had used improper tests and falsified fuel efficiency test data for decades.
Last week, South Korea accused Nissan Motor of cheating on emission tests and planned to fine the Japanese company $279,920 for manipulating emissions tests. Nissan, however, has "firmly" denied the accusation.
South Korea's environment ministry probed 20 diesel car models in the wake of the Volkswagen emissions scandal and only the Nissan Qashqai failed the test.
Within the same week, Suzuki Motor apologized for improper tests, as Mitsubishi had, but it denied reports that it illegally falsified mileage numbers.
The wave of scandals is wiping out chunks of the automakers' market value and, in China, will probably cool customer enthusiasm for Japanese products.
Due to the short history of China's automobile industry, some people in the country believe that imported products are better than locally made ones, they consider foreign brands to mean quality, and have developed the belief that companies from developed countries, especially Germany and Japan, are 100 percent reliable.
For quite some time in China, words such as "strictness", "quality", and "spirit of artisanship" were most associated with Japanese brands, with one of the best-known examples being a rush to buy toilet seats in Japan last year.
A British friend who wishes to remain anonymous told me he likes Japanese cars too, but said that back in the 1970s, Japanese cars had poor reputation in the United Kingdom, much worse than that of "made in China" to those who turn a blind eye to Chinese automakers' efforts over the decades.
It is true that the average level of car manufacture in Japan is higher than in China, where the history of auto making is merely 60 years, but some local manufacturers are already standing out and still more are catching up.
The Qoros 3 was the first China-made car to score a five-star rating in the Euro-NCAP in 2013 and received the second-highest score in the test's history.
However, its sales were far inferior to its performance in the test and one major reason was that customers don't believe that China-made cars deserve to carry as high a price tag as international brands do.
Chen Anning, chairman of Qoros, said his dream is to see customers take pride in "made in China" vehicles. It is time to overhaul the reputation of China-made products, said the auto veteran who worked in Ford for some 20 years, at a recent forum in Beijing.
BAIC Motor's Chairman Xu Heyi said it is the obligation of Chinese brands to turn themselves into international brands.
He acknowledged that artisanship takes time and said his company is drafting a system to cultivate that culture.
The recent scandals also offer a lesson to Chinese automakers, which is more valuable than incidentally helping redress their image in the eyes of customers.
One reason behind those humiliating events, said John Zeng, managing director of LMC Automotive Shanghai, is the contradiction between governments' rising demands on limiting emissions and automakers' inability to meet those in a profitable way.
The logic in the business world is that companies have to juggle several hats at the same time: make money for shareholders, meet government demands on emissions and offer products that customers like.
It seems that when they cannot fulfill that trio of tasks perfectly, moneymaking also has more value than the other two and thus increases the possibility of being caught lying.
Now that it is becoming more evident worldwide that governments are more demanding about emissions, the only solution to the hat-juggling task will be to make hay of research and development while the sun shines and trust that preparation will save automakers from having to lie.