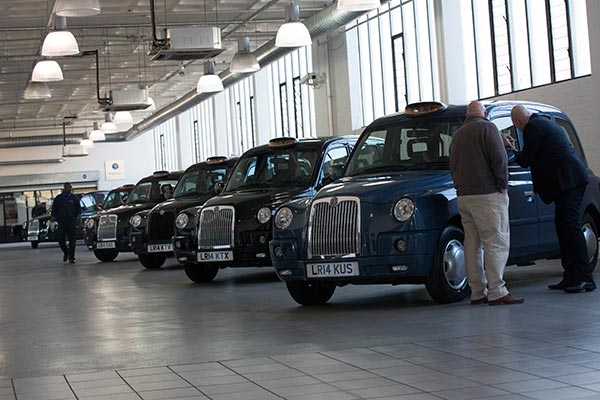 A customer, right, looks at a new black TX4 Euro 5 London taxi cab, produced by the London Taxi Company, a unit of Zhejiang Geely Holding Group, at the company's showroom in London, March 12, 2014. [Photo/VCG]
Zhejiang Geely Holding Group, the Chinese owner of the London Taxi Co, has raised $400 million through issuing green bonds, Bloomberg reported on Friday.
The proceeds will be used to develop the Geely TX5 hybrid taxi, which will replace the iconic black cabs in London. It was over-subscribed by close to six times, Bloomberg reported.
Geely mandated Bank of America Merrill Lynch, Bank of China, Barclays and Societe Generale for the green bond offering. According to Barclays, the transaction is the first credit-enhanced green bond offering from a global auto company.
A green bond is an innovative financing method used around the world, directing financial resources to environmental protection. Almost $56 billion green bonds may be issued in 2016, topping last year's record of $46 billion, according to Bloomberg New Energy Finance.
The company has no plans to issue another in the foreseeable future, the Bloomberg said, citing Frank Li, group chief financial officer.
Geely plans to start producing a prototype of the TX5 at a factory in Coventry, England, Li said, adding that commercial sales are scheduled to start in the fourth quarter of 2017.
London required that from Jan 1, 2018, all new taxies have to have zero emissions.
Geely, which also owns Sweden's Volvo brand, has set a target for 90 percent of its sales to consist of new-energy vehicles - that is, battery powered and hybrid cars- by 2020.
Agencies contributed to this story.