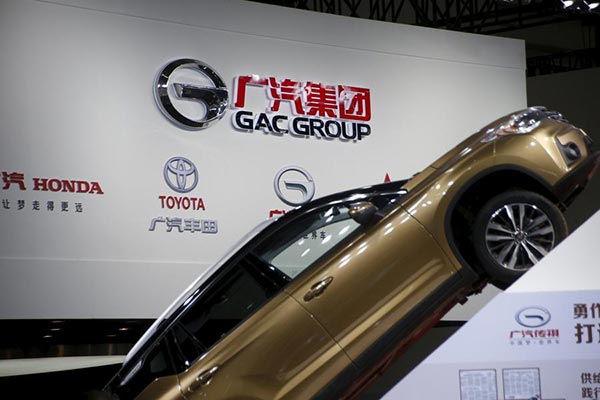 Guangzhou Automobile Group's logo is pictured at its booth during the Auto China 2016 auto show in Beijing, China, April 26, 2016.[Photo/Agencies]
Guangzhou Automobile Group Co (GAC), one of the major Chinese car makers, denied on Thursday that it planned to buy a stake in Fiat Chrysler Automobiles (FCA).
"We currently have no plans for this ... GAC has never had talks with FCA in this regard," said a GAC spokeswoman, who declined to be named.
Italian newspaper Il Giornale citing unnamed sources, reported the GAC, based in Guangzhou, the capital of Guangdong province in southern China, was considering making an offer for a majority stake in the Italian-American carmaker.
"We don't know how the report was produced," the GAC spokeswoman said. FCA officials could not be reached for comment.
Both companies have developed a joint venture that enables FCA to manufacture cars in China, under the brands Fiat and Jeep.
In the first four months of 2016, the joint venture sold nearly 39,000 vehicles, a year-on-year increase of 211 percent, according to the GAC website.