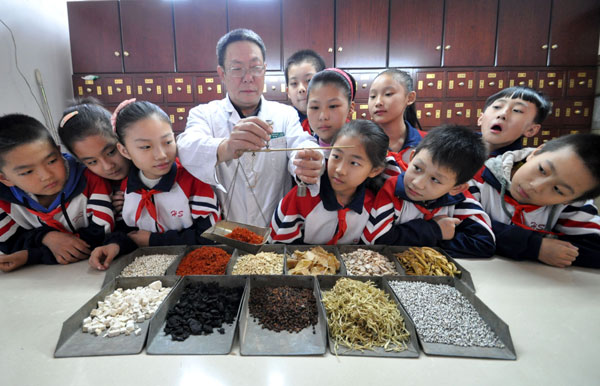 Students from Handan Zhuhelu Primary School get a traditional Chinese medicine (TCM) demonstration in Handan city, Hebei province, Oct 21, 2013. [Hao Qunying/Asianewsphoto]
The United States Pharmacopeial Convention, a scientific nonprofit organization that sets standards for medicines and food ingredients, is looking to team up with Chinese organizations for establishing standards for traditional Chinese medicine.
"In recent years, China has been positively promoting the international development of TCM. We have worked with some Chinese organizations to develop the standards for more than 10 kinds of traditional Chinese medicines," said John Hu, senior vice-president and general manager of USP-China.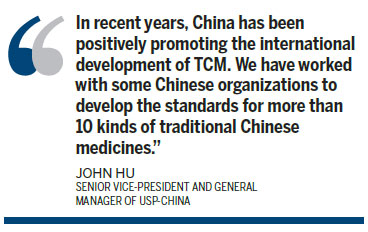 USP's drug standards are enforced in the United States by the Food and Drug Administration. Its Chinese office, USP China, was set up in 2007 to study the standards for traditional Chinese medicine. The USP standards, such as those for Chinese salvia, a herb used in TCM, will enable it to be sold in the US market as medicine, rather than health product.
Premier Li Keqiang visited the USP China office in Shanghai on Thursday afternoon. The premier witnessed several key activities of the USP in China during his extensive tour of the company's laboratories. Among these were the ongoing efforts on developing standards for traditional Chinese herbal medicines, the detection of heavy metals in medicines and the development of a standard for taurine, a common ingredient in many popular energy drinks.
USP China had expanded its research and development activities and laboratories at a new site in the China (Shanghai) Pilot Free Trade Zone in January this year.
Li expressed confidence that USP will work with Chinese companies to set standards for medicines, boost the quality of drugs and help companies in their overseas expansion.
USP China said it has already worked with a large number of Chinese companies and scientific bodies, and currently, more than 130 standards for medicines have been listed into the US Pharmacopeial Convention.
Zhang Shufen, communication's officer of the company, said USP China has benefited from the move to the FTZ as the customs have exempted taxes for samples and research equipment used in the laboratories. In addition, it has also made the overall customs clearance procedures much more easier.
"Most of the equipment cost millions of yuan. The tax exemption policy has reduced costs for us and left us in a better position than other branches of the USP, especially when the headquarters want to designate a program to an overseas office," Zhang said.
The cost of running a business has fallen by 14 percent in the region during the year, according to statistics provided by the FTZ.