Xi Ao village, an inconspicuous little place in Yongjia county, Zhejiang province, has made its mark in e-commerce. There are just over 200 families residing in Xi Ao villige and out of them more than 150 own and operate online stores on Taobao, the Chinese equivalent of eBay. The village generated nearly 100 million yuan ($16 million) revenue through e-commerce by selling educational toys.
It's a typical "Taobao Village" in China.
Luo Yongshu runs a small online shop selling educational toys on Taobao. She takes orders and handles customer complaints and her husband takes care of shipping. Before opening the online shop, she had not even touched a computer and now the store is putting her two daughters through college.
Sixty percent of online shops are operated by mothers and fathers, just like Luo's, while the other 40 percent are run by college graduates who came back to start business. They have more experience in e-commerce and are more adaptive of the fast-changing concept of online shopping.
Shao Sunping is a college educated owner of an online shop in Xi Ao. He has outsourced the day-to-day operations to a professional management team and has hired 15 employees to focus on customer relations and after-sale services. His store generated 4 million yuan ($0.65 million) revenue in 2013.
Constrained by shortage of training and talent, "Taobao village" is facing problems. Due to lack of operational skills and promotional channels many shops are cutting prices to gain a competitive edge. Some shops sell products at base cost and try to recover profits from shipment fee.
Local government has stepped in to facilitate healthy development of e-commerce in the village by providing training to shop owners and improving quality of products and innovation. By setting guidelines and rules, now online shop owners in Xi Ao do not have to worry about neighbors undercutting their prices.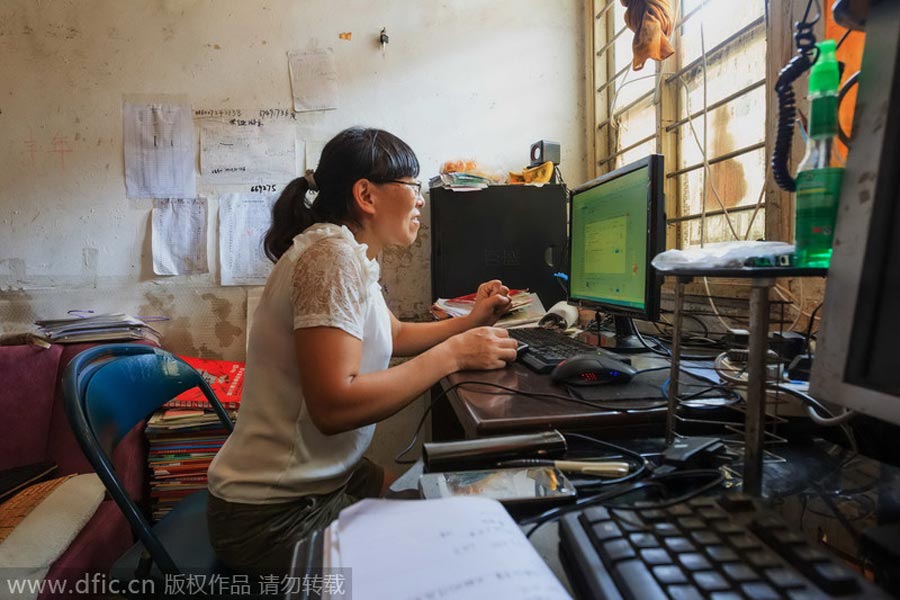 Luo Yongshu and many women like her in Xi Ao spend most of their day in front of computers dealing with customers, Sept 10 2014. [Photo/IC]