Religion enjoys surge in followers, especially among elite and white-collar workers, as life pressures increase. Xu Wei reports.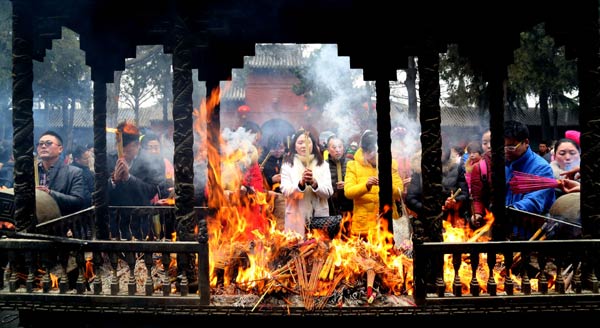 People pray at the White Horse Temple in Luoyang, Henan province, on Feb 24, the last day of this year's Spring Festival holiday. Xu Hongxing / For China Daily
Yu Yueming had the world at her feet when she graduated from the elite China Central Academy of Fine Arts in 2012, and most of her friends and family expected her to set out on a glittering career in art.
Instead she looked inward and chose a different path, becoming a full-time volunteer at the Buddhist Longquan Monastery in the northern outskirts of Beijing.
"I was puzzled. I didn't know what kind of life I wanted to live. At least here I have found a direction in life," said the 26-year-old, who works in the temple's animation studio.
The temple has close to 200 volunteers. Like Yu, many of them are graduates from China's top universities. Life here stands in stark contrast to the typical college experience: Out went nightclubs, karaoke bars and movies; in came early-morning starts, a vegetarian diet and regular meditation sessions.
"My life was aimless until I came here," Yu said. "And it's not only me. I'd say most of my fellow students did not know what they were living for."
For centuries, Buddhism has been an influential religion in China, and in recent years it has seen a surge in followers, particularly among the upper echelons of society. Experts say the trend is a result of efforts by religious leaders to better communicate with the public, as well as associate it with a renaissance in traditional Chinese culture and the promotion of that culture overseas.
"As people become more wealthy, the quality of life is not determined by your position or how much money you make, but by your inner strength," Yu said. "The experience of religion is a source of inner power to many people."
Venerable Master Xuecheng, vice-president of the Buddhist Association of China and abbot of Longquan Monastery, wrote in an article in February that Buddhist thinking can provide a pillar for China's socialist core value system, while playing an instrumental role to further international exchanges as China promotes the "Belt and Road" initiative.
President Xi Jinping also praised the contribution of Buddhism to traditional culture in a speech delivered at the UNESCO headquarters in March last year.
Zhuo Xinping, director of the Chinese Academy of Social Sciences' Institute of World Religions, said: "The vacuum of faith amid the rapid economic boom is clearly felt in the large number of corruption cases, the money worship and the indifference toward public affairs."