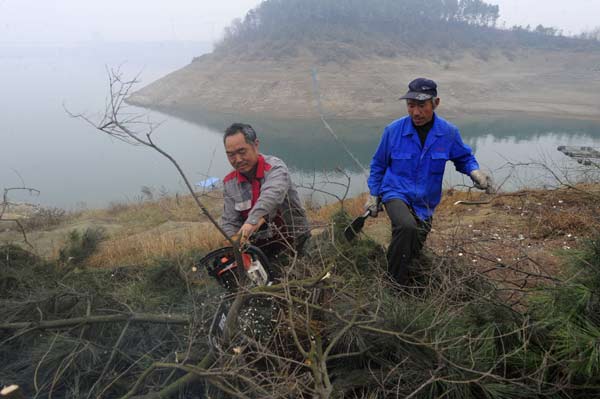 Workers clear trees in August 2013 at the Danjiangkou Reservoir, which also underwent restorations to prepare for the South-to-North Water Diversion Project. HAO TONGQIAN / XINHUA
Last year, the government said it will spend 2 trillion yuan to tackle the pollution of scarce water resources.
"These are good signs that the new leaders are paying a lot of attention to environmental issues," said Ma Jun, head of the Institute of Public and Environmental Affairs. Beijing is showing a strong resolve to upgrade the economy and shift the focus away from heavy industry, Ma said.
"The next step is to translate decision into more action," Ma said, adding that Wenzhou's case is a good one to show that water resources can be restored by reducing pollutants.
Local authorities help residents in the reservoir region give up poultry farming to reduce pollutants, release fry into the reservoir to recover its biology and monitor illegal activities such as fishing and waste discharge every day.
But he also admitted that protection of source water sites in other places may be much more complicated than what is being achieved in the Shanxi reservoir area, which has little industrial development with agriculture as the main economic activity.
"China's water resources are numerous and administered by separate bodies. Due to lack of coordination and a 'beggar-thy-neighbor' policy, rivers that cross provinces or regions are hard to protect and manage," Ma said.
As dumping of industrial chemicals, agricultural waste and urban wastewater has contaminated parts of the country's water resources, recovering source water will not be easy for local water authorities.
The environment has been seriously neglected in the past three decades because of the emphasis on generating GDP, Ma said.
"Change cannot be made overnight, and much work still needs to be done," Ma said.
Liu Wenjun, a water safety professor with Tsinghua University, said water pollution must be addressed by cutting the source of pollution.
"Water pollution in one region will affect the whole river," Liu said. Once contaminated, recovering the water source will take dozens of years with lots of investment, Liu said.
Ma pointed to the new Environmental Protection Law as a formidable weapon in the fight against pollution.
The law will take effect on Jan 1, 2015. It will address air, water and soil pollution, providing authorities with more power of enforcement than they previously possessed.
Under the law, authorities will be able to detain regular violators for up to 15 days and impose larger fines on polluters. Legally registered civil society organizations will also be allowed to initiate litigation in the name of public interest and local governments will be required to release information on pollution.
"With the new law and local government's resolve, water pollution will be solved gradually," Ma said.
For Zhao Handa, running a village for tourists amid the beautiful mountains and flowing river of Huangtan feels increasingly rewarding.
"Improving the environment brings clean water and attracts more visitors," he said.
Contact the writer at wangqian@chinadaily.com.cn