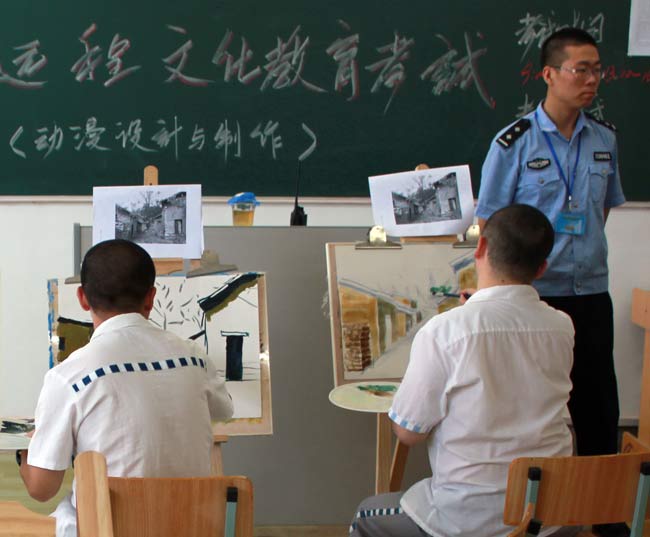 Inmates at Qingpu Prison in Shanghai take part in an animation design exam in July 2013. Shanghai currently has 730 inmates who have taken part in the entrance exams of senior colleges and polytechnic schools. PHOTO PROVIDED TO CHINA DAILY
Correctional facilities are finding more ways to help prisoners adapt to life in and out of jail, reports Wei Tian in Shanghai.
More medical care, support for inmates with HIV
Shanghai is upgrading its detention system by providing professional medical care and mental support for suspects with special conditions such as HIV carriers.
The No 3 Detention Center in Shanghai's Qingpu district has been the only one of its kind in the city receiving HIV-positive suspects since May 2010.
"Establishing such a mechanism has greatly eased the burden for other detention centers in the city in dealing with such cases," said Li Lixin, head of the No 3 Detention Center.
The center has set up a long-term cooperation mechanism with some of the best hospitals in Shanghai to tap their resources for medical treatment and health checks for the inmates round-the-clock, Li said.
A clinic in the center boasts 13 function rooms and advanced medical equipment capable of X-ray diagnosis, B-mode ultrasonography, blood routine and blood biochemical analysis. The equipment in the laboratory alone costs more than 2 million yuan ($325,000).
The facilities are used to treat the dozens of HIV-positive suspects currently in custody, and there will be medical support from hospitals, said Yang Shuliang, a section chief with the medical center.
"When a diagnosis shows a suspect needing treatment, we will ask for his permission and if he agrees, the treatment will begin. Just like for a normal person with HIV, the entire treatment is free," Yang said.
Medical professionals said the procedures remain challenging because they might have to deal with unpredictable behavior from suspects infected with HIV.
One officer who was dealing with an HIV-infected suspect in 2010 was accidentally exposed to infected material. He was not infected with the virus thanks to timely treatment.
In another case in May, one HIV-positive suspect suffering from inflammation of the blood vessels was in serious condition and even his roommates would not get near him. Officers later had to patiently persuade him to receive treatment.
Physical treatment is never enough for HIV-infected inmates. Ruan Feng, a psychological counselor at the No 3 Detention Center, said they must first "untie the knots" in patients' minds.
"They are often self-abandoned. But everyone is capable of resolving issues, as long as you dig deeper in the mind," said Ruan, who has more than 10 years of experience in psychological counseling.
In addition to sandplay therapy in the counseling room for analyzing inmates' mental conditions, there is also a stuffed dummy in the playroom used as a sandbag for them to let off steam.
"I used to watched movies and think all officers in the Chinese mainland would beat the inmates," said an inmate from Hong Kong who is HIV-positive.
"But now I've learned that they treat life more importantly than anything else."
When the lights came on, performers of the Xinsheng Art Troupe stepped forward on the stage and took a bow.
Amid the extended applause, the curtain call seemed like any deserved end to a well-delivered musical in the theater.
But this was a performance in Qingpu Prison, the largest correctional facility in Shanghai and one of three holding convicted felons. Qingpu also contains more than 100 foreign prisoners from 38 countries.
On stage, the actors, chorus members, conductor and his orchestra were mostly inmates of Qingpu. The 45 prisoners of the troupe, among which nearly half are foreigners, have been sentenced to a total prison term of more than 600 years.
But that has not stopped them from performing in the musical more than 60 times since they made their debut in early 2013.
"The prisoners have really devoted themselves to rehearsing and performing the musical, working closely with the officers and volunteers," said Li Bin, a section chief at Qingpu Prison who is also a coordinator of the performance.
"To overcome the language barrier, the foreign prisoners learned Chinese while officers learned English. It was a dual language environment," Li said.
The composer and conductor of the 90-minute performance is a Chinese New Zealander who graduated from China's top music academy but was imprisoned for illegal business operations. The drummer of the orchestra is from the United Kingdom. There are also a number of inmates from Africa in the chorus.
The musical, titled The Inner Prison, tells the story of a young prisoner finding his remorse and redemption with the help of a prison guard. Local newspaper Jiefang Daily reported that on the day of the premiere, the theater was filled with crying from both the performers and their families in the audience, as the plot is based on the true experiences of many among the 2,000 inmates at Qingpu Prison, as well as those in other 11 prisons across Shanghai.
The Xinsheng Art Troupe's performance in Qingpu Prison is just one example of correctional facilities across the country, which is finding more and better ways to reform and rehabilitate inmates in improving prison environments.
Zhang Yong was given a life sentence in 2009 for intentional injury that resulted in the death of another young man. Now studying in the prison library every day, the 26-year-old, who had completed only junior high school, has set his goal on obtaining a college degree.
"I'm thinking of studying economics, for this may help me find a better job when I'm out," said Zhang, who still faces at least 20 years in prison as part of his reduced sentence.
Zhang was among 730 prisoners in Shanghai who had decided to use their time behind bars to seek higher education. To meet their demand, Shanghai's prison system was the first in the country to introduce distance education in June 2012 in cooperation with Shanghai Open University.
"Prisons in Shanghai put education, reform and redemption of people as the priority," said Lin Peng, a senior official with the Shanghai Municipal Prison Management Bureau.
He said Shanghai has renovated several prisons over the past decade to deal with prisoners with different heath conditions and prepare those who are about to be released for their return to society.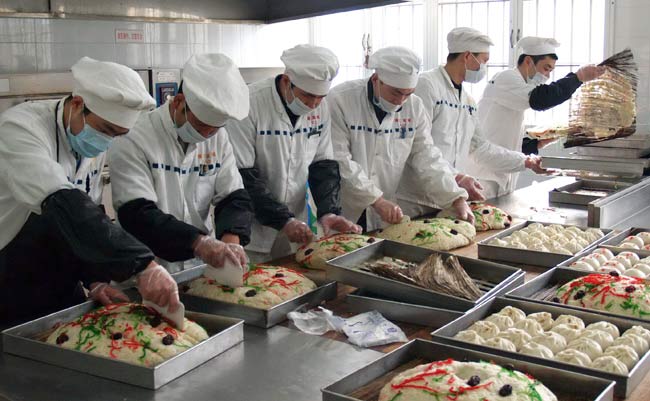 Inmates at Nanhui Prison in Shanghai making pastries in March 2011. PHOTO PROVIDED TO CHINA DAILY