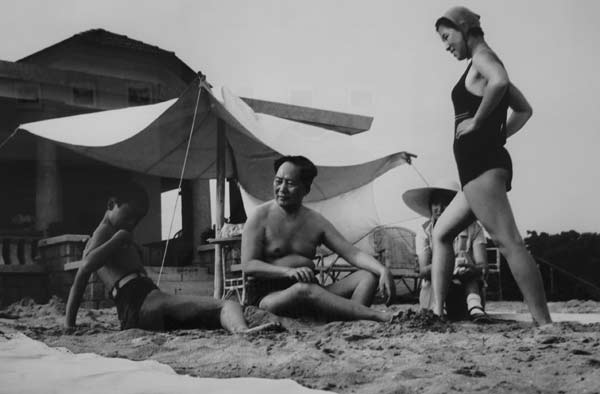 Late Chairman Mao Zedong takes a vacation at the Beidaihe Beach Resort in 1954. Photo by Lyu Houmin / For China Daily 
Venerable vacation spot that hosted important meetings continues to evolve with country's development
Already famous
Beidaihe was popular before top leaders made it their summer resort, said Sun Zhisheng, cultural consultant of Beidaihe district.
"Beidaihe was first discovered as a seaside resort and named in 1893 because of the establishment of a railway station near the village ofBeidaihe, located a few miles from the sea," he said.
Well-known emperors of the Qin, Han, Wei and Tang dynasties had visited the area. That in turn drew foreigners from European countries and the United States to build villas and churches and make it a beach resort, Sun said.
As one of China's first major tourist sites, Beidaihe also boasts many firsts such as a tourist railway line, tourist poster in a foreign language and summer resort network with restaurants, travel agencies and souvenir shops, he said.
Top beaches in China include
Sanya
in Hainan province,
Qingdao
in
Shandong
,
Xiamen
in Fujian and Beidaihe in
Hebei
.
Beidaihe, a district in Qinhuangdao city with population of about 600,000, is not the beach with the clearest waters, most comfortable weather or even most advanced entertainment facilities.
But it is the most special of them all.
Beidaihe has been popular as a summer resort since the early 1920s. But it hit hallowed status only after it became the beach resort for top Party and State officials to work and rest in summer.
Sun Zhisheng was born in Beidaihe and has lived and worked in the area for decades. The director of the Qinhuangdao Historical and Cultural Research Society, in his 60s, has lived through the highs and lows of the area that has been closely tied to the country's development.
"It was only after the founding of the People's Republic of China in 1949 that Beidaihe began to enjoy a completely new life of its own," Sun said.
Not long after the Communist Party of China assumed power in Beijing in 1949, it began to think about Beidaihe as the ideal place for accomplished soldiers and distinguished individuals who had contributed to the founding of New China to recuperate and escape the sweltering summers of Beijing. Apart from its proximity to the capital and natural scenery, Beidaihe also boasts more than 700 well-designed villas and tourist facilities.
In April 1949, the Party Central Committee sent people to Beidaihe to set up a rehabilitation center. They took over some of the deserted houses and purchased other buildings in what is now called the West Hill - the site of today's facilities for State leaders. Other rehabilitation centers for elderly workers, coal miners, railway workers, People's Liberation Army soldiers, diplomats and foreign experts were also set up.
In the autumn of 1953, the central government decided to set Beidaihe as its summer office with several new houses, roads and other facilities.
Top leaders also used Beidaihe to conduct meetings, discuss important issues and make major decisions.
From 1953 to 1965, almost all important summer meetings were held in Beidaihe with many important decisions made from its villas.
These included the launch of the Anti-rightist Campaign in 1957; shelling of Kinmen, an island off the Fujian coast controlled by the Kuomintang in 1958; and the launch of the Great Leap Forward.
The system was suspended twice. Once was during the "cultural revolution" (1966-76) and the other was from 1979 to 1984, when the central government decided to open almost all the sanatoriums to the public to develop tourism.
New custom
The outbreak of SARS in 2003 also disrupted the annual top-level trips to the summer resort.
Beidaihe was China's summer capital before the summer administrative system was abolished in 2003.
Many people believe Beidaihe's political influence has been greatly reduced since then. But Wang Yukai, a professor of public administration with the Chinese Academy of Governance, said a new custom has formed in which central government leaders and some retired cadres stay in the Beidaihe retreat for their summer holidays or for recuperation.
According to the Global Times, Chinese media have rarely reported on the leaders' activities during their stay in Beidaihe since former president Hu Jintao abolished the yearly outing.
Meetings between the top leaders and their advisers have since become a sign that the top leaders are holding an "informal" conference in Beidaihe to discuss something crucial.
On Aug 5, Liu Yunshan, a member of the Standing Committee of the Political Bureau of the CPC Central Committee, met about 60 top-level scientists and experts in other fields who were enjoying a State-sponsored summer vacation at Beidaihe.