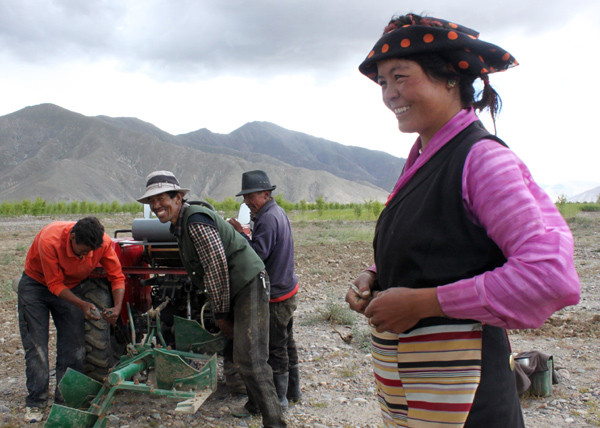 Residents of Namling county of the Tibet autonomous region farm their land. The land became arable thanks to a shelter forest project provided by Shandong province under the Aid-Tibet program. Peng Yining / China Daily 
Related video

Government aid program injecting resources helps Tibetan residents reap benefits of development on 'Roof of the World', reports Peng Yining in Ngari, Tibet.
When agriculture specialist Han Junwen arrived in Ngari prefecture of the Tibet autonomous region, he was greeted by the taste of sand in the air.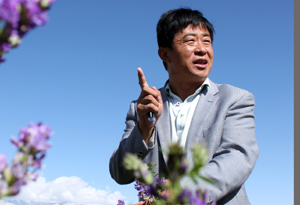 Surviving tough conditions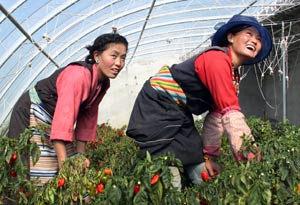 Learning the local way of life

.
"It was April when I first arrived in Ngari in 2005. People back in the inland areas could smell the spring in the air but here in Ngari, there was nothing in the desert-like area.
"I knew it was going to be tough in Tibet, but didn't expect it to be that tough. I started to doubt what I could do for the local people."
Han, 47, was sent from Shaanxi province to the prefecture, which is 4,500 meters above sea level, as part of development work.
"Locals used to tell me even a lizard could not survive in Ngari's harsh environment," he said.
But Han soldiered on and his efforts are taking root.
For the past decade, he has been growing forage grass in Tibet's desert-like area to help herdsmen.
His alfalfa field, which covers 1,640 hectares, is now able to provide 11,000 tons of forage each year.
Nearby villagers also keep more than 200 milk cows that feed on the forage crop. Each cow brings villagers 30,000 yuan ($4,878) a year, 15 times higher than their income 20 years ago.
"It is very difficult for alfalfa to survive in such a tough environment. But all it needs is a little water," Han said.
"It's the same with the locals. They have been living on the plateau for generations and all they need is a little help to live a better life."
Tibet, known as the "Roof of the World", boasts snow-peaked ranges and mountaintop temples. Its breathtaking beauty draws people from all over the world but also belies a challenging environment that holds back the region's economic progress.
In 1994, China launched the national Aid-Tibet program to develop the autonomous region's economy.
Over the past two decades, 17 provincial areas and 17 State-owned enterprises have taken part in the program. Each one of them helps one area in Tibet.
This includes Beijing's work with the regional capital of Lhasa and Shaanxi's cooperation with Ngari.