Famed artist's work on display at the Ashmolean
By Cecily Liu in London ( chinadaily.com.cn )
Updated: 2016-10-24 21:23:52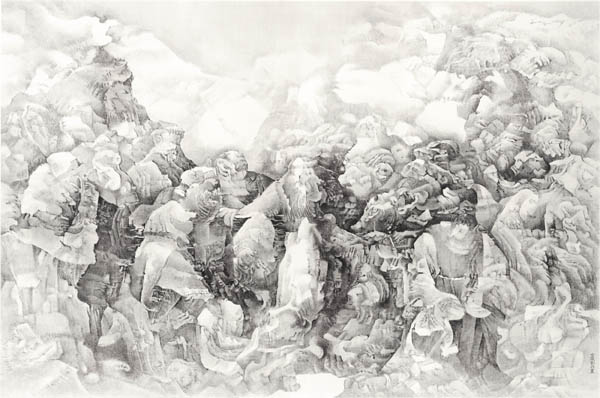 Pleats of Matter, 2015. [Photo/Provided to China Daily]
The University of Oxford's Ashmolean Museum opened a new exhibition on Thursday featuring 19 ink paintings by leading Chinese contemporary artist Liu Dan.
The exhibition focuses on Liu's iconic rock paintings, in which the artist depicts the inorganic objects in fine detail through the use of traditional Chinese ink painting combined with Italian
Renaissance techniques. The paintings reveal the intricacy of the forms and show them to be small versions of larger landscape elements.
Liu, who was born in Nanjing in 1953, moved to Hawaii in 1981 and lived in the US for more than 20 years before moving back to Beijing in 2005.
His experience and artistic styles represent a generation of contemporary Chinese painters whose work draws inspiration from both Eastern and Western aesthetics.
It was while in Hawaii that Liu made a conceptual breakthrough. Essentially, he observed that rocks, which have always been a key element in Chinese landscape paintings, are not stable forms but change with every angle from which they are viewed. For Liu, they function as 'stem cells', meaning that they can be replicated in infinite variety to represent the natural world.
The exhibition, which will be open for four months, is titled Liu Dan: New Landscapes and Old Masters, and rides on a wave of popularity for Chinese paintings in the UK.
In 2013, London's Victoria and Albert Museum displayed more than 70 famous Chinese paintings that had been created between 700 and 1900. Jonathan Jones, the Guardian's art critic, hailed the showing as a "great exhibition (that turns) the story of art upside down".
More recently, the School of Oriental and African Studies showed a collection of paintings in its Brunei Gallery by Chinese contemporary artist Hong Ling (born 1955), who is known for his rich landscapes, rigorous handling of pictorial space and complex layering of paint.
Shelagh Vainker, curator of Chinese Art at the Ashmolean Museum, said the rising profile of Chinese contemporary artists internationally in recent years has increased the UK public's interest in Chinese art.
Chinese art exhibitions at the Ashmolean Museum grew with the opening of the Michael Sullivan Gallery in 2000. The gallery is named after the Oxford professor who, along with his wife Khoan, built up a collection of some 400 works by Chinese artists that was left to the museum in 2013.
Vainker described Liu's brushwork as outstanding.
"When you look at the brushwork, you can't see the trace of the brush. Liu has taken landscape rocks, which are painted over and over again in Chinese traditional painting, but the composition is different. So, the juxtaposition between the very traditional and new is unique," Vainker explained.
Zhang Hongxing, a senior curator at the V&A, who curated the 2013 Chinese paintings exhibition, described Liu is an artist with a scholarly interest in Chinese art history.
"His works show a great understanding of painters' methods and techniques developed during Song and Yuan period," Zhang said.
Liu now has exhibitions showing in museums and galleries across China, Europe and the US. Sotheby's in New York showed a selling exhibition of more than 50 early works this year, comprising drawings, ink paintings and prints, including work inspired by the artist's visit to the Dunhuang caves, the Hawaiian landscape, and his iconic studies of flowers and rocks during his New York period.
If you go:
Liu Dan: New Landscapes and Old Masters, is showing between Oct 20 and Feb 26 at the Ashmolean Museum

We will not give up search, Li vows
International hunt for missing airliner continues after fruitless six-day search