What to expect from CPC's upcoming plenary session?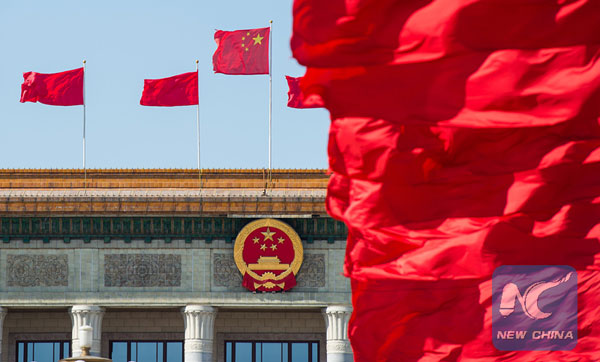 Red flags on the Tian'anmen Square and atop the Great Hall of the People in Beijing. [Photo/Xinhua]
The Communist Party of China (CPC) will convene the sixth plenary session of its 18th Central Committee in Beijing on Monday.
The four-day plenum, which is scheduled to run from Oct 24 to 27, will deliberate the drafting of two documents concerning party discipline.
The CPC Central Committee holds a plenary session at least once a year in Beijing to make policies and decisions. Here is what to observe about this year's key meeting concerning the world's largest party.
1. What will the 6th plenary session do?
High on the agenda of the sixth plenary session is deliberation of the drafting of two documents, namely:
(1) The norms of political life within the Party under the new situation,
And,
(2) A revision to an intra-Party supervision regulation.
2. Why discuss about the norms of political life within the Party?
History shows that as a Marxist party, the CPC must be politically conscious and adopt a serious and meticulous approach to intra-Party political life, according to a statement of the Political Bureau of the CPC Central Committee released on Sept 27.
Efforts should be made to enhance the Party's capability to purify, improve and renovate itself, to resist corruption and risk, and prevent itself from degeneration, according to the statement.
Amid its efforts to strengthen and standardize Party political life, the CPC should aim to improve its art of leadership and governance, safeguard the authority of the CPC Central Committee, ensure Party unity, and maintain its advanced nature and purity, the statement said.
3. Why discuss intra-Party supervision?
In order to ensure the Party is always the strong leadership core of the socialist cause with Chinese characteristics, supervision should be carried out in line with the requirements of the Party Constitution and in accordance with regulations, said the Political Bureau statement, adding that intra-Party supervision should be combined with supervision by the people.
The task for exercising intra-Party supervision is to ensure the Party Constitution, regulations and discipline are enforced effectively, maintain the Party unity and solidarity, and primarily resolve problems of Party leadership enervation and slackness in Party governance and discipline observation, it said.
Intra-Party supervision should be exercised via democratic centralism, tightening top-down organizational supervision, improving democratic supervision from the bottom to the top, and letting peers supervise each other.
"There are no restricted areas and exception in intra-Party supervision," it said.
4. How will the plenary session deliberate the two drafts?
Opinions and suggestions put forward by Party members from various regions and departments on the two documents should be reviewed and absorbed into the drafts, according to the statement of the Political Bureau.