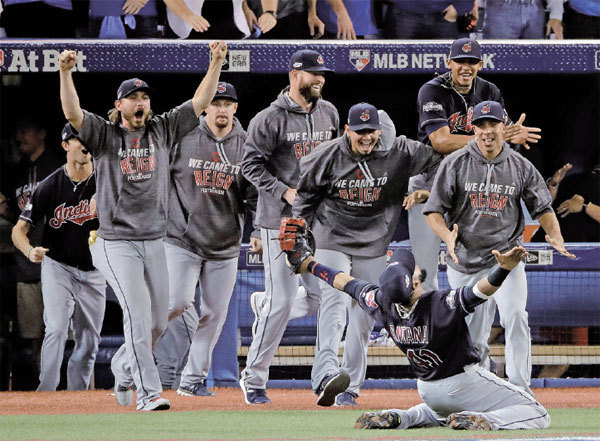 Cleveland Indians first baseman Carlos Santana celebrates after making the final out in Wednesday's Game 5 of American League Championship Series against the Toronto Blue Jays in Toronto. The Tribe won 30 to take the bestofseven series 41. [Photo/Agencies]
A most unlikely pitching performance helped put a most unexpected team into the World Series.
Cleveland rookie Ryan Merritt came out of nowhere and coolly delivered a lead to the Andrew Miller-led bullpen as the Indians won their first pennant since 1997 by blanking the Toronto Blue Jays 3-0 on Wednesday to win the AL Championship Series.
Cleveland, which has never hosted a World Series opener, will play Game 1 at Progressive Field on Tuesday night against the Chicago Cubs or Los Angeles Dodgers.
Manager Terry Francona's team will try to augment what's already been a scintillating year in Cleveland after LeBron James and the Cavaliers earned the city's first major pro sports championship since 1964, winning the NBA championship.
The Indians' title drought dates to 1948.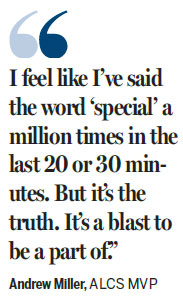 "We always said if we could do it with this group it would be so special because this is as close to a family feel as you can get in a professional setting. So for that part of it, it is beyond feeling good," Francona said.
Miller, acquired from the New York Yankees in a mid-season trade, was selected the ALCS MVP as the Indians took their sixth pennant.
"I feel like I've said the word 'special' a million times in the last 20 or 30 minutes. But it's the truth. It's a blast to be a part of," Miller said.
With just 11 major league innings under his belt - and only one start, on Sept 30 - Merritt took the mound and looked just like a seasoned vet.
The 24-year-old lefty retired the first 10 batters he faced and allowed a mere two hits before being pulled after 4 1/3 innings.
"I know they were counting on me," Merritt said. "Before the game, they came and told me they had my back, everybody had my back, good or bad. So that takes some pressure off, and I just went out there and trusted my team."
When Merritt left the mound it was up to Cleveland's tireless relievers to hold a three-run lead against the wild-card Jays.
Miller again did most of the heavy lifting, going 2 2/3 innings before Cody Allen worked the ninth for a save. Winning pitcher Bryan Shaw tossed an inning before Miller came in.
Carlos Santana and Coco Crisp homered for the Indians.
With starting pitchers Carlos Carrasco, Danny Salazar and Trevor Bauer dealing with injuries, the Indians kept defying the odds.
Cleveland overtook defending World Series champion Kansas City and topped a $196 million Detroit team to win the AL Central, then put an abrupt end to Big Papi's career by sweeping David Ortiz and the Boston Red Sox in the Division Series.
The Indians stayed on a roll in the ALCS, shutting down the Blue Jays. Cleveland won despite hitting .168 in the series, with slick-fielding shortstop Francisco Lindor leading the way in going 7 for 19.
Toronto lost in the ALCS for the second straight year.
"I'm sure there will be some disappointments and grumbling and complaining about how we fell short again, but that's not coming from me," manager John Gibbons said.
"I know what these guys did, and I think it's a pretty good accomplishment.
"The key is we want to take that next step one of these days.
"Hopefully, it's next year."
Merritt struck out three batters in the first two innings - all looking - and didn't allow a base-runner until Josh Donaldson's one-out single in the fourth.
After Russell Martin's bloop single with one out in the fifth, Francona leaned again on a bullpen that soaked up 8 1/3 innings in a Game 3 win on Monday.
Shaw pitched an inning, and Miller came on with one out in the sixth and a runner on.
Donaldson bounced into a double play on Miller's first pitch, and the tall lefty made it through the seventh and eighth with little trouble before giving way to Allen.
Cleveland took a 1-0 lead in the first when Mike Napoli doubled and left fielder Ezequiel Carrera misplayed the ball off the wall for an error. Lindor scored from first on the play.
Santana and Crisp added solo shots in the third and fourth off Toronto starter Marco Estrada to provide the Indians with all the offense they needed.