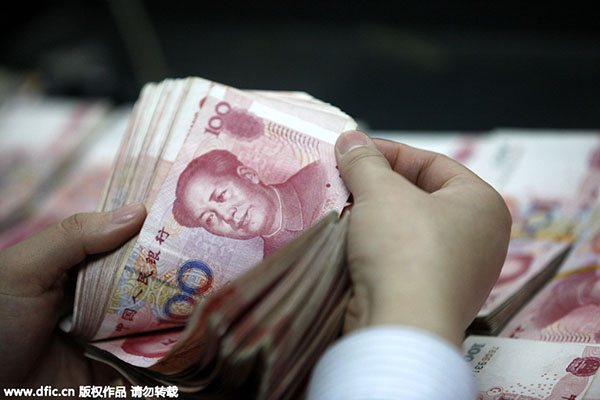 A Chinese clerk counts yuan banknotes at a bank in Huaibei city, East China's Anhui province, January 22, 2015.[Photo/IC]
China is paying close attention to tightening up risk control in the banking sector and pushing forward financial regulation reforms, financial innovation and international regulatory cooperation, according to an official of the China Banking Regulatory Commission on Monday.
"The Chinese banking regulator will put great emphasis on guiding the banking sector to focus on the real economy with highlights on optimizing market positioning, reducing costs and enhancing efficiency. It will also promote the steady and healthy development of banking institutions by highlighting on the improvement of corporate governance and the expansion of access for private capital to the banking sector," said Yang Jiacai, assistant chairman of the CBRC, at the 48th International Banking Federation Board Meeting in Beijing.
He said the banking sector was accelerating its transition, which could be seen from the rapid growth of personal loans, accounting for 52.9 percent of new loans, and the growth of interbank business at a rate of more than 20 percent since the beginning of this year.
"The Chinese banking sector is uplifting the international and professional level of its governance, participating in international regulatory reforms, promoting the development of green finance, inclusive finance and consumer protection, as well as making contributions to the establishment of justified and reasonable international financial order and financial governance system," he said.
Pan Guangwei, executive vice president of the China Banking Association, said, "It's the first time that the International Banking Federation held its board meeting in China, which shows that the achievement of the reform and development of Chinese banking sector and banking regulation has caught world attention."
Chinese banking institutions' total assets have reached 212 trillion yuan ($31 trillion) and the total liabilities are 196 trillion yuan. The average NPL ratio is 1.75 percent, according to the CBRC.
Steven Munchenberg, chairman of the International Banking Federation, said: "China has been a member of IBFed for some years now. We felt it's the right time to come to China and demonstrate China is an important voice of international discussions… One of the things I've been focusing on is making sure that there's a stronger voice from the Asian region in those international discussions and in discussions about the IBFed."
Participants of the IBFed board meeting this year will be talking particularly about international regulatory developments. One of the key parts of that is the finalization of the Basel III capital requirements. Each of the banking associations got common interest in making sure that new rules will work in their circumstances, he said.