Cultural ties draw B&R nations closer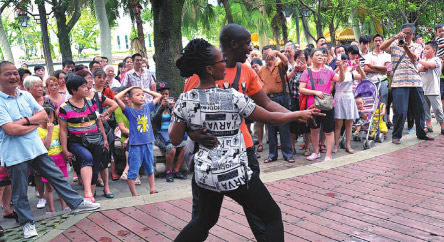 Foreign tourists dance at a park in Fuzhou, capital of Fujian province. [Photo by YOU QINGHUI/CHINA DAILY]
Quanzhou origin
The maritime route, once used by legendary travelers such as Marco Polo and the Moroccan explorer Ibn Battuta, originated in Quanzhou, an international port at the time where different cultures met.
The third Maritime Silk Road International Arts Festival will be held in Quanzhou this December to celebrate and promote the city's involvement in the route since ancient times.
During the 12th Five-Year Plan (2011-2015) period, the city sent 130 delegations with a total of 2,108 members to participate in cultural exchanges and cooperation activities in 33 countries and regions, including Japan, South Korea, the United States and France.
In that period, more than 1,994 members of international cultural organizations from more than 40 countries and regions were invited to share their opinions on the local operas, cultural exhibitions and seminars.
The city's cultural products are exported to about 70 countries and regions around the world. In 2016, the added value of Quanzhou's cultural industry reached 30.4 billion yuan ($4.6 billion), up 10 percent year-on-year.