Cultural ties draw B&R nations closer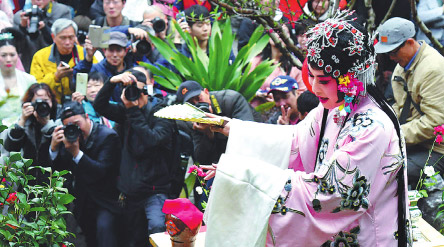 An actress performs a local opera on stage. [Photo by YOU QINGHUI/CHINA DAILY]
The province has launched a vast array of initiatives to establish and deepen cultural ties, such as building cultural exchange centers in countries along the Belt and Road routes to promote its time-honored culture.
Fujian's office for overseas Chinese affairs has launched summer camps in overseas schools to help children access and experience Chinese culture. Cities across the province have built sister-city relationships with 84 counterparts in 35 countries.
A dance drama, titled Dream of the Maritime Silk Road, has become a hit show symbolizing ancient East-West commercial and cultural exchanges.
Created by the Fujian Opera and Dance Drama Theater, the show tells the story of owners of a commercial fleet in Fujian's Quanzhou port developing a new sailing route with a Persian prince 800 years ago.
The show has been well received by audiences since it debuted in Beijing's National Center for the Performing Arts in 2014. It has been performed in more than 60 countries, regions and international organizations, including Malaysia and Indonesia, as well as the headquarters of the United Nations, UNESCO and the European Union. In Kuala Lumpur, Malaysia, a single session of the show drew more than 4,000 people, setting a new record.
Fujian has created a range of operas and performances featuring the ancient maritime trade route, including Sea Goddess Matsu, which was performed at the third Silk Road International Festival.
An exhibition featuring cultural relics relating to the Maritime Silk Road, starting in October 2013, won praise from domestic and overseas audiences. Staged by the Fujian Museum together with 51 museums around the country, the exhibition displays more than 240 relics that witnessed the development of the ancient trade route.