Cultural ties draw B&R nations closer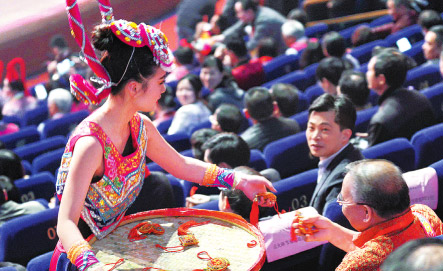 A clerk dressed in traditional She ethnic costume hands out scented sachets at an international forum in Fujian province.[Photo by YOU QINGHUI/CHINA DAILY]
Fujian province, a core area of the 21st Century Maritime Silk Road, has launched a range of overseas shows and art exhibitions in recent years to promote Chinese culture along the ancient trade route.
As part of its going out strategy for the local cultural industry, the province's efforts in developing its cultural resources started more than three decades ago, when President Xi Jinping worked in the province.
Xi paid the same amount of attention to cultural and people-to-people exchanges as he did to economic and trade cooperation, pushing forward the province's reform and opening-up when he held several positions there between 1985 and 2002, according to a report by Fujian Daily.
President Xi proposed the initiative of the Silk Road Economic Belt and the 21st Century Maritime Silk Road in 2013, marking the revival of the ancient trade route.
The Maritime Silk Road, which ran from China through Southeast Asia and the Indian Ocean to Europe, took shape in the Qin Dynasty (221-206 BC) and reached its peak during the Song (960-1279) and Yuan (1271-1368) dynasties.