L.A. declares local emergency amid huge wildfire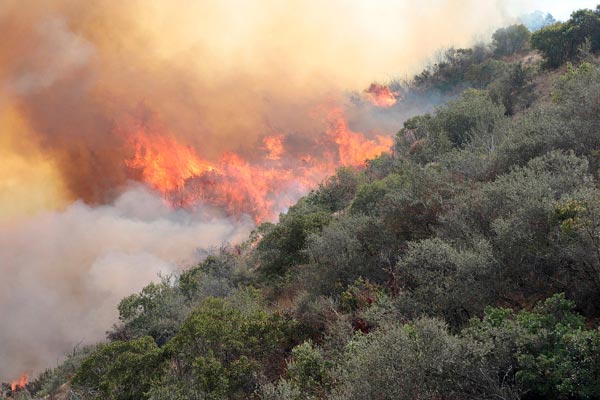 The La Tuna Canyon fire has burned 5,895 acres and is still at 10% contained in Burbank, California, September 3, 2017. [Photo/VCG]
LOS ANGELES - Mayor of US city Los Angeles Eric Garcetti declared Saturday a local emergency in response to the largest wildfire by acreage in city history.
The La Tuna Fire has reportedly grown to about 8,000 acres, prompting mandatory evacuations in some areas.
Three structures were destroyed by the fire. No loss of life and no injuries reported and containment remains at 10 percent by 3:45 p.m. local time (0045 GMT next day), according to Los Angeles Fire Department (LAFD).
The fire began Friday near the La Tuna Canyon close to the 210 Freeway, north of Los Angeles.
Garcetti signed a declaration of emergency that directs relevant departments in the City of Los Angeles to take all necessary steps to protect life and property in the area affected by the fire.
"The La Tuna Canyon Fire is an emergency that requires all available resources to protect our residents and keep our homes and other structures out of harm's way. We are grateful for the men and women of LAFD, and all our partner agencies, for their heroic efforts to attempt to bring the fire under control and to keep people and their homes safe," said Garcetti in a statement.
The mayor also requested the Governor of the state of California, Jerry Brown, to declare an emergency, "so that state and federal assistance can be provided to the City as quickly as possible."
About 500 firefighters are working on the blaze, additional resources have been requested from the state, and about 100 Los Angeles firefighters are expected back soon from Texas, where they have been helping survivors from Hurricane Harvey, City News Service reported.
Four fixed-wing airtankers have been ordered to fight the blaze. Those aircraft continue retardant drops to help firefighters who are battling wildfires amid severe heatwave.
"The biggest factor is weather and the wind," Los Angeles Fire Department Battalion Chief Ralph Terrazas was quoted as saying by City News Service.
"We're constantly evaluating and it's dependent upon the wind shifts," said Terrazas. "Our priority is saving property. We're evaluating that at all points of the fire. There's a lot of fuel to burn."