WWII bomb deactivated in Frankfurt after mass evacuation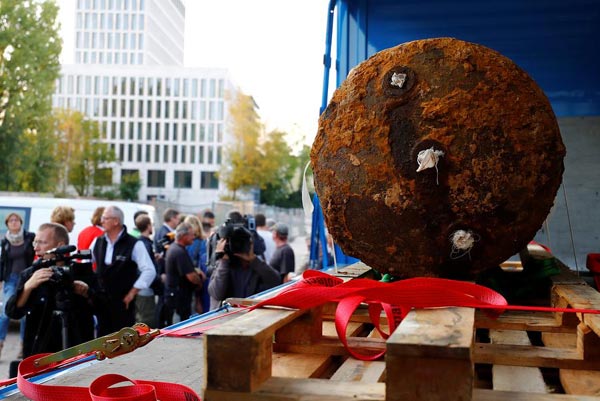 Explosives experts defused a massive World War Two bomb after tens of thousands of people evacuated their homes in Frankfurt, Germany, September 3, 2017. [Photo/Agencies]
FRANKFURT - A World War II air bomb was successfully deactivated Sunday afternoon, after the largest ever evacuation in Germany since WWII, allowing over 60,000 local people to resume their normal life.
Local police announced via Twitter that all known blasting mechanisms of the 1.8-ton bomb had been dismantled.
Ahead of bomb disposal starting around 3 pm Sunday, more than 60,000 residents in Frankfurt had been evacuated since Saturday night.
The unexploded aerial bomb HC4000 with 1.4 tons of explosives was found Tuesday on a construction site in the district Westend, Frankfurt, a gathering place for companies of the financial community, law firms, universities etc.
Frankfurt, now a financial center in Europe, was bombed during World War II.