About 40 died or feared dead in Texas caused by Hurricane Harvey: local officials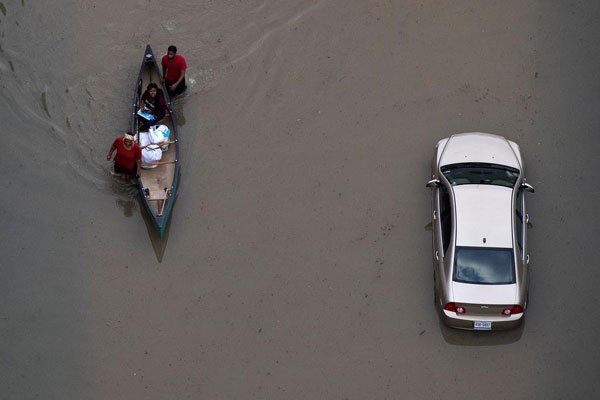 Residents hold on to a canoe as they navigate through flood waters brought by Tropical Storm Harvey in Northwest Houston, Texas, US August 30, 2017. [Photo/Agencies]
HOUSTON - Nearly 40 people died or are feared dead in flooding or circumstances connected to Tropical Storm Harvey in Texas, according to local officials.
Medical examiners are in the process of confirming which deaths are related to the historic flooding. Authorities are still searching for some of those believed to have perished during the flooding in the region. Local officials expect the grim discoveries of additional bodies once the floodwaters retreat and the streams, rivers and bayous go back into their banks.
The Harris County Institute of Forensic Sciences said Wednesday night it had confirmed 18 storm deaths, all but one of which were accidental drownings. They were investigating 10 additional deaths as potentially storm-related.
Among those deaths is a family of six reported missing after their van was swept away by floodwaters in east Houston near Greens Bayou on Sunday afternoon.
At least six people have died in Galveston County near the Gulf Coast as a result of Harvey-related flooding, officials said Tuesday, and one other death may be storm-related. The total includes three confirmed deaths -- two in Dickinson and one in League City.
Deaths were also reported in four counties in south east of Texas.