Merkel faces challenges despite having upper hand in upcoming elections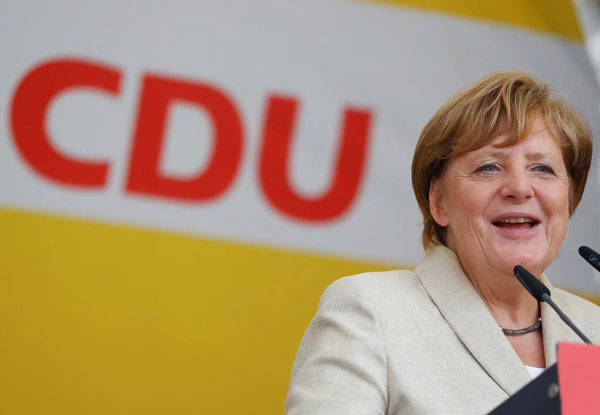 German Chancellor Angela Merkel gives a speech during an election rally in Ludwigshafen, Germany, August 30, 2017. [Photo/Agencies]
BERLIN - It's only less than a month before the German federal elections day on September 24. German Chancellor Angela Merkel is leading in polls.
But the overall situation in Germany is not so good as ordinary people believe. The long-term and sustainable solutions for refugee issues, and the rise of right-wing populism, among other difficult issues, need to be addressed by Merkel and the German government.
To some extent, Germany is enjoying some best times after the 2008/2009 financial crisis. Its economy keeps gaining momentum for growth, its export is robust, and economic think-tanks keep raising their expectations of Germany's GDP growth rates. Employment is booming, as Merkel in her campaign outline vowed to achieve full employment by 2025.
The sound economic situation made the Christian Democratic Union (CDU) enjoy its upper hand against the Social Democrats (SPD), a center-left party traditionally representing workers and employees and always paying attention to social justice. But in its coalition with SPD, Merkel's center-right Union has addressed a series of issues concerning social justice and showed center-left political stances, including supporting a welfare state and legal minimum salaries, and turning off Germany's nuclear power plants. SPD has also been accused of lacking difference between itself and the Union in both domestic and foreign issues.