Trump pushes Congress for tax reform without offering specific plans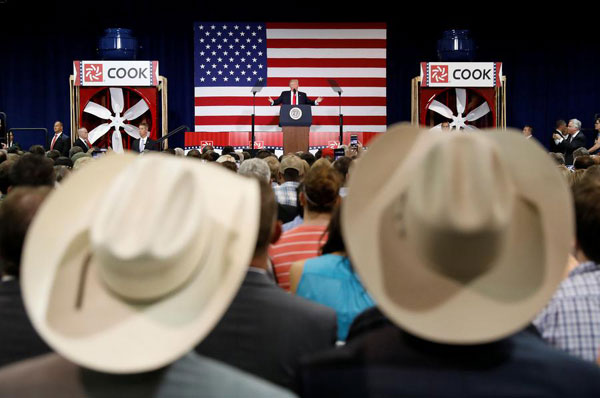 Supporters wearing cowboy hats listen as US President Donald Trump speaks about tax reform during a visit to Loren Cook Company in Springfield, Missouri, US, August 30, 2017. [Photo/Agencies]
WASHINGTON - US President Donald Trump on Wednesday pushed Congress to pass a comprehensive measure to overhaul the tax code, but didn't offer specific plans.
"The foundation of our job-creation agenda is to fundamentally reform our tax code for the first time in more than 30 years," Trump said at an event in Springfield, the state of Missouri.
"I am fully committed to working with Congress to get this job done, and I don't want to be disappointed by Congress," he said, hoping both Republicans and Democrats could join together to pass the tax reform legislation.
In his speech, Trump laid out four principles for the tax reform: a tax code that is simple, fair and easy to understand; a globally competitive tax code; tax relief for middle-class families and bringing back trillions of dollars in wealth parked overseas. But he didn't offer any new specific plans for getting tax reform done.
As the Republican-controlled Congress failed to repeal the Affordable Care Act known as Obamacare, the Trump administration has taken a different approach to drive public support for tax reform by launching a national campaign to tout the benefits of tax reform.
White House National Economic Council Director Gary Cohn said last week that Congress, not the president, is taking the lead on crafting the actual tax reform legislation. Cohn and US Treasury Secretary Steven Mnuchin have held regular meetings in recent months with four Republican leaders in the House and Senate to work on the legislation.
The so-called "Big Six" expected the legislation for tax reform to move through the tax-writing committees this fall, followed by consideration on the House and Senate floors.
It's not clear whether Congress has enough time to debate and pass the tax reform legislation by the end of this year, as lawmakers also have to pass legislation to fund the federal government and raise the debt ceiling in the coming months.