Hurricane Harvey's floods increase health risk for residents in storm-hit area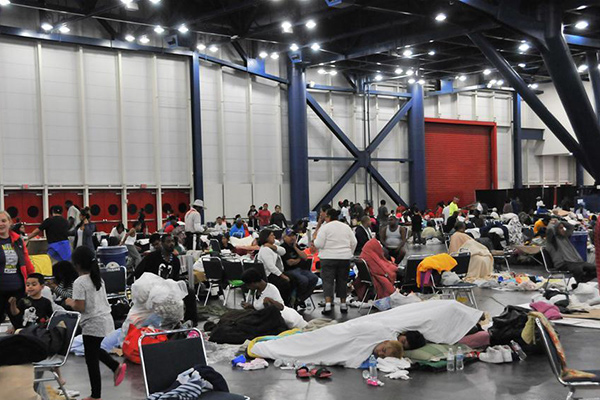 People take shelter at the George R. Brown Convention Center in downtown Houston, the United States, on Aug 29, 2017. [Photo/Xinhua]
HOUSTON - Flood waters not only destroy homes and highways, but also bring with chemicals, heavy metals, sewage, debris and mosquitoes to people's homes in what officials warned on Wednesday that residents are facing long-term health threats.
In a press conference, officials reminded residents to remain clear of flood water which could have dangerous debris, down power lines and snakes. They also reminded residents to stay vigilant to remove standing water to reduce the threat of mosquito-born illnesses.
"Prevention, prevention, prevention is the key," Dr. Humair Shaw, Harris County public health executive director said in the conference. Harris County is where Houston locates.
Shaw said that as much of the county remained underwater, the threats hidden beneath those murky tides have led to several injuries.
"When you expose yourself to flood waters, you put yourself at risk," he said, adding "if you've been exposed to flood water, do whatever you can do to disinfect yourself," he said.
As water begins to recede in most of the flooded roads in Houston, Xinhua correspondent saw there are people playing with flood water on the streets, or even fishing in lakes and rivers where the water level has risen dramatically since Hurricane Harvey made a landfall on Aug 25 in Gulf Coast area in Texas.
In particular, Shaw asked parents keep their children from playing flood water.
He also addressed the importance of homeowners and business owners cleaning their homes and buildings after they take in water.
Wildlife can post a health risk. Standing water left after the flood recedes will leave an ideal breading ground for mosquitoes which can spread Zika virus.
Water-borne and person-to-person infections can also early spread after a disaster. Overwhelmed sewer systems bring people into contact with disease-spreading bacteria. Stomach illnesses are common after floods, public health officials said.
About 16 people were killed in the current tropical storm, and officials were projecting that as many as 30,000 people will ultimately be evacuated from flooded homes in Houston and other cities and towns in Texas.