Trump expresses desire for better relations with Russia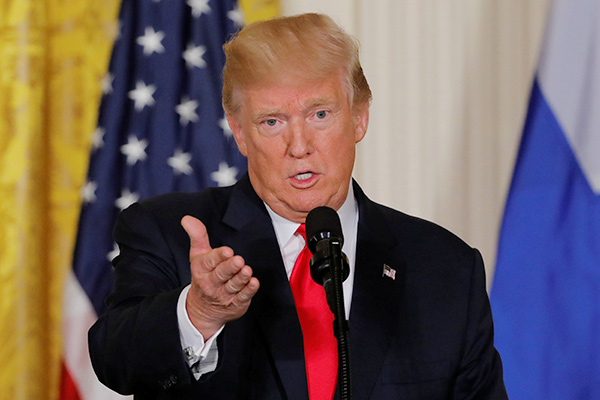 US President Donald Trump holds a joint news conference with Finland's President Sauli Niinisto (not pictured) at the White House in Washington, US, August 28, 2017. [Photo/Agencies]
WASHINGTON - US President Donald Trump said on Monday that he hoped the US could have good relations with Russia, which would be "good for world peace."
"I hope that we do have good relations with Russia," Trump said at a joint press conference with visiting Finnish President Sauli Niinisto. "I say it loud and clear. I have been saying it for years. I think it's a good thing if we have great relationships, or at least good relationships, with Russia."
"I believe someday that will happen...I think that's very good for world peace and other things," the US President added.
When asked whether he considers Russia as a security threat, Trump said, "I consider many countries as a security threat, unfortunately, when you look at what's going on in the world today."
Trump's remarks came at a low point of bilateral relationship between Washington and Moscow, as the two sides hold differences on a range of issues, including the war in Syria, the conflict in Ukraine, and US accusations that the Kremlin meddled in the 2016 US presidential elections, a charge Russia strongly denies.
Earlier this month, Trump signed into law a sanctions bill on Russia, Iran and the Democratic People's Republic of Korea (DPRK), but he criticized the bill as "seriously flawed."
The new legislation also grants US lawmakers power to block Trump from unilaterally lifting sanctions on Russia.
Russia will not resort to symmetric countermeasures in response to sanctions by the US and will continue to seek dialogue with the latter instead, Russian Deputy Foreign Minister Sergei Ryabkov has said.
"This is a huge burden and a serious blow to the basis of our relationship. Nevertheless, we do not want to turn relations with the United States into a tit-for-tat game," Ryabkov said in an interview Tuesday with Xinhua.