Concert expresses love for special children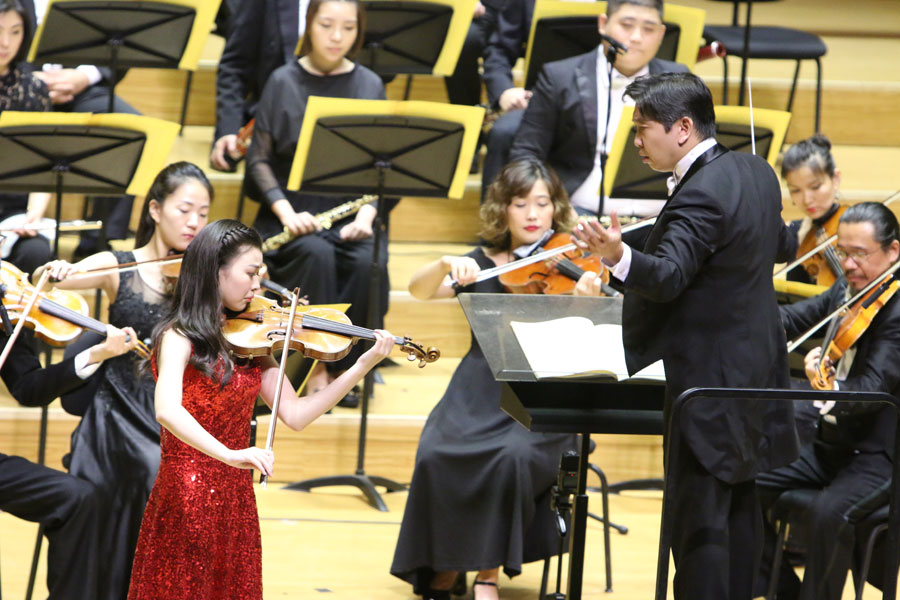 Shi Hanchi, in the red dress, performs during the concert, A Date with Angels at the Beijing Concert Hall on Aug 21, 2017. [Photo provided to chinadaily.com.cn]
A concert to express love to some of the most vulnerable in society was held at the Beijing Concert hall on Monday night.
Titled A Date with Angels, the performance was divided into two sections, both featuring western classical music.
"The program centered around love was well-chosen, including such popular pieces as Schindler's List and Salut D'Amour," said Wang Bing, a pianist from the New Music Orchestra in China.
Supported by the CRI Online, the concert attracted over 1,200 people and dozens of media outlets. It aimed to offer emotional support and care for those who are mentally challenged.
To inspire younger people to learn music, two young Chinese teenage girls from the New York-based Juilliard School of Music performed at the audio-visual feast.
"Since I began learning it at the age of 4, the violin has increasingly become a part of my daily life. Playing music has helped me gradually become more outgoing," 14-year-old Shi Hanchi told China Daily website.
"Music can speak to children to remind them of the sense of being cared about," the young violinist said when speaking about her personal experience visiting the Beijing Qizhi School of Special Education, whose president attended the concert.
"The large cello that produces low, rich sounds attracted me most," said Jiang Yuqi, who has studied the instrument for almost seven years. Jiang, 13, agreed that music can take negative energy away and boost children's motivation.
Children everywhere can enjoy so many kinds of concerts, such as concert films. But vulnerable populations might not so easily have access to a public concert. They are prone to be "ignored or downplayed", according to Zhang Bo, an artist also from the New Music Orchestra.
Music can help children with special needs through a variety of significant improvements, including reduced stress, increased IQ and improved ability to concentrate, according to findings by the University of California, Irvine and published in Nature Journal in 1993.