Evacuations issued across hurricane-ravaged US Houston area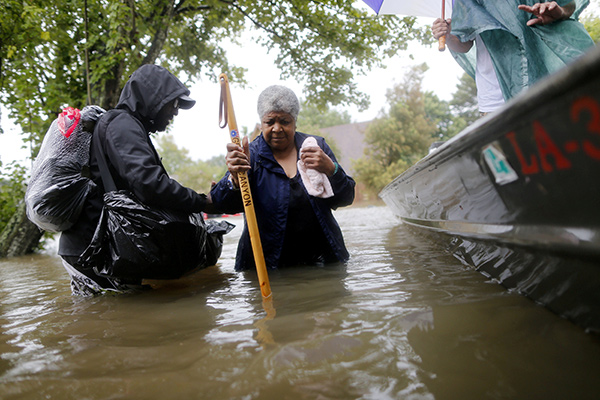 Andrew Mitchell helps his neighbor Beverly Johnson onto a rescue boat to escape the rising flood waters from Tropical Storm Harvey in Beaumont Place, Houston, Texas, US, on August 28, 2017. [Photo/Agencies]
HOUSTON - Mandatory and voluntary evacuations are issued across the Houston metropolitan area in the southern US state of Texas as historic Hurricane Harvey is expected to make a second landfall Tuesday.
Mandatory evacuation will go into effect for entire Bay City in the area at 13:00 local time (1800 GMT) on Monday, which expects up to 3 meters of water downtown.
Residents in low-lying coastal areas along or near the coast line are ordered to evacuate, including those in Rock Port, the area hit hard by the hurricane which made the first landfall Friday night.
People who live inland but are close to rivers received notice for voluntary evacuations, including those who live in the Greater Houston area.
Catastrophic flood waters inundated Houston on Sunday and forecasts expect more heavy rainfall in the coming days.
Earlier on Sunday, a body was found not far away from the coastal area in Southeast Texas, which increases the death toll to six after Hurricane Harvey made landfall Friday night. However, local police said they are not sure if the death is directly related to Harvey.
Widespread and worsening flood conditions prompted the closure of nearly every major road in Houston as the outer bands of Harvey swept through the Houston area over the weekend.
After receiving an overwhelming number of inquiries for help from citizens and corporations, Houston Mayor Sylvester Turner has established the Hurricane Harvey Relief Fund which accepts tax deductible flood relief donations.