All eyes on panda: Is she pregnant?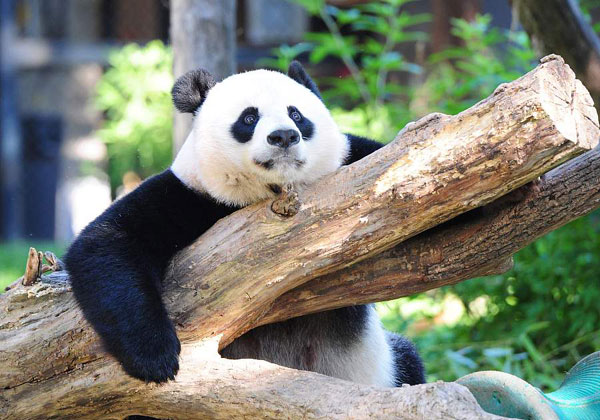 Giant panda Mei Xiang rests in her enclosure August 24, 2016 at the National Zoo in Washington, DC. [Photo/VCG]
The National Zoo will close its panda house on Friday to provide the best chance for a successful giant panda cub birth as 19-year-old giant panda Mei Xiang begins the last stage of her pregnancy (or pseudo-pregnancy, whichever the case may be), the zoo announced on Thursday.
Visitors can still see the zoo's male pandas, Tian Tian and Bei Bei, in their outdoor yards, weather permitting.
The indoor pavilion of the David M. Rubenstein Family Giant Panda Habitat, the official name of the panda house, has been closed since Aug 18 to keep things quiet for Mei Xiang.
The zoo said Mei Xiang has been showing behavior commonly associated with pregnancy or pseudo-pregnancy. She was artificially inseminated on May 25.
Mei Xiang, meaning "beautiful fragrance" in Chinese, has spent most of her time sleeping, building a nest in her den and eating less.
On Aug 25, the zoo said if Mei Xiang was pregnant, the panda team wants her to give birth indoors where they can quickly provide help if needed.
Veterinarians are continuing to track changes in her uterus with weekly ultrasounds, but it is likely still too early to see a fetus if Mei Xiang is pregnant. The only way to definitely determine if a panda is actually pregnant is to see a fetus on an ultrasound, according to the zoo.
A newborn giant panda cub is tiny, blind and pink with sparse white hair. The average weight is 100 grams, or 3.5 ounces.
Mei Xiang, who weighs 230 pounds, was born on July 22, 1998 at the China Conservation and Research Center for the Giant Pandas in Wolong, Sichuan province.
She has given birth to six cubs at the National Zoo, all fathered by Tian Tian, a male panda who arrived at the National Zoo with Mei Xiang in 2000. Only three of the cubs have survived: Tai Shan, a male, born on July 9, 2005 and moved to China on Feb 4, 2010 to join the breeding program under an agreement between China and the US; Bao Bao, born on Aug 23, 2013 and moved to China last February; and Bei Bei, the current male cub at the zoo, who was born on Aug 22, 2015.
The panda house had two birthday celebrations over the past 10 days when Bei Bei turned two on Aug 22 and Tian Tian turned 20 on Aug 27. Both got panda-friendly frozen cakes made by the zoo staff.