China pumps 500m yuan into BRICS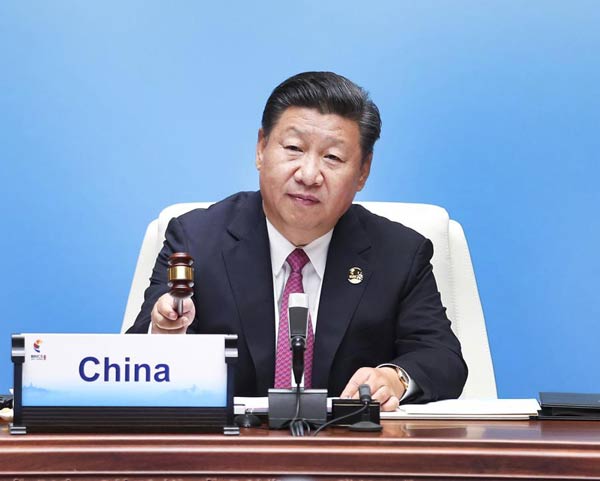 Chinese President Xi Jinping speaks at the plenary session during the BRICS Summit in Xiamen, Fujian province on September 4, 2017. [Photo/Xinhua]
China will set aside 500 million yuan ($76 million) for economic and technological cooperation and exchanges among BRICS countries, President Xi Jinping said on Monday while addressing the BRICS Summit.
Xi also announced plans to inject $4 million into a project preparation fund to support the BRICS-led New Development Bank's operation and long-term development.
He called on the five countries that make up BRICS - Brazil, Russia, India, China and South Africa - to promote practical cooperation.
Noting that only 5.7 percent of the BRICS countries' $197 billion investment went to the five countries last year, Xi said that there remains huge potential for economic cooperation among the BRICS members.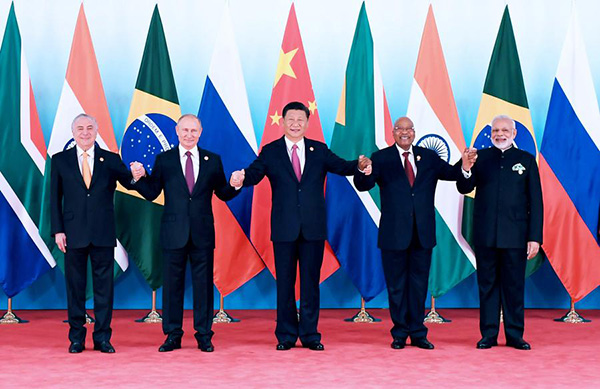 Leaders of BRICS countries pose for group photos after the ninth BRICS summit in the eastern city of Xiamen, Fujian province, Sept 4, 2017. [Photo/Xinhua]
The president pointed out that the BRICS' "gold content" has been rising continuously in recent years along with measures such as boosting service trade, facilitating investment, initiating e-commerce cooperation and strengthening ties on innovation.
The five countries should increase cooperation in sectors such as trade and investment, monetary and financial areas, connectivity, sustainable development, innovation and industrial cooperation, Xi said.
Brazilian President Michel Temer, Russian President Vladimir Putin, Indian Prime Minister Narendra Modi and South African President Jacob Zuma attended the summit meeting chaired by Xi.
anbaijie@chinadaily.com.cn