Xi calls on BRICS to oppose protectionism, lead on global issues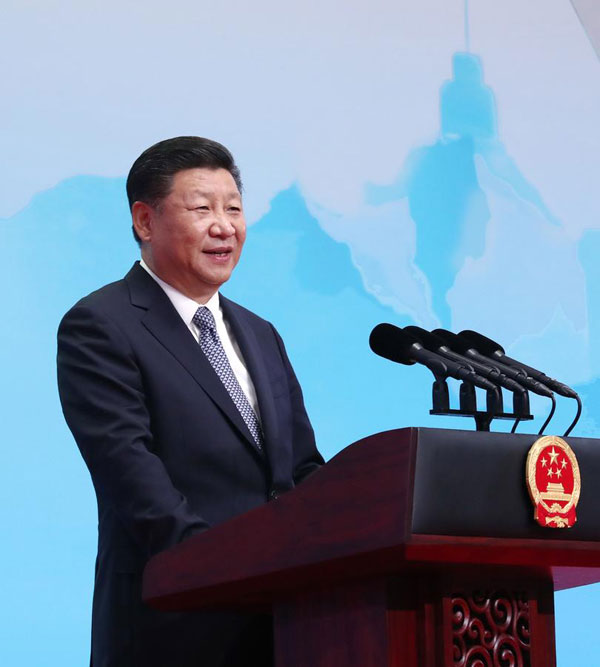 Chinese President Xi Jinping delivers a keynote speech at the opening ceremony of the BRICS Business Forum in Xiamen, East China's Fujian province, Sept 3, 2017. [Photo/Xinhua]
On September 3, 2017, President Xi Jinping delivered a keynote address at the opening ceremony of the two-day BRICS Business Forum, one day prior to the grouping's 9th Annual Summit to be held at Xiamen International Conference and Exhibition Center in Xiamen, East China's Fujian province. President Xi outlined a new blueprint for future development of BRICS cooperation that won applause and high praise from participants. President Jacob Zuma of South Africa and President Michel Temer of Brazil were also present at the forum.
This year's BRICS Business Forum from Sept 3 to 4 is the largest as an unprecedented number of guests, nearly 1,200, are attending the two-day event; 1,069 of whom are senior executives of 632 enterprises from China and abroad. Among the foreign guests, who represent half of all participants, 80 come from Fortune 500 multinationals across the United Kingdom, United States, France and Germany, in addition to those representing the BRICS countries - Brazil, Russia, India, China and South Africa.
An important side-event of the BRICS Leaders' summit, the BRICS Business Forum is organized by the China Council for the Promotion of International Trade. Since its debut in 2010, the BRICS Business Forum has been an important platform for the business communities of BRICS countries to work together for cooperation and development, aiming to facilitate dialogue and consultation among these countries, and deepen trade and economic cooperation.
In his 40-minute address, Xi analyzed the current global economic landscape and summarized the achievements made so far in BRICS cooperation, while looking ahead to a "great era of development, transformation and adjustment". He called on leaders of BRICS countries to present a united opposition front against protectionism and new barriers in global trade. He also asked to show leadership on issues of regional and global importance, including counter terrorism.
Xi's speech is positive, realistic and open, resonated with the Xiamen Summit theme of "BRICS: Stronger Partnership for a Brighter Future". Xi's speech demonstrated new prospects for the five BRICS members, enhancing mutual trust and strategic communication while blowing a new horn for other emerging markets and developing countries to advance the right path of globalization, rejecting protectionism.
Focusing on enhancing cooperation between the BRICS members, Xi said, "Construction of a tall building starts with the foundation. We have laid the foundation and put in place the framework for BRICS cooperation". Xi underlined that "treating each other as equals and seeking common ground while shelving differences", is an important part of cooperation between the five member emerging economies.
Xi's speech is important in regards to the golden decade for BRICS. He emphasized that BRICS countries should work to usher in the second "golden decade" of cooperation. He said going forward, BRICS countries have major tasks to accomplish, which are to grow economies and to strengthen cooperation. "It is time to set sail when the tide rises," Xi said, adding that countries should work to let their economic cooperation have more substance.
Xi used his speech to strengthen China's advocacy for economic globalization in the face of signals from the Trump administration of rising protectionism. His expressions on globalization and abandoning the old economic order were really positive, impressive. He reinforced his message telling the forum that the development of emerging market and developing countries is not intended to "move the cheese of anyone" but to "make the pie of the global economy bigger".
Given the current state of sluggish global growth in recent years, such issues as uneven development, inadequate governance and deficit of fairness, he urged BRICS countries to work together with other members of the international community to uphold and secure global economic stability and growth for the long term benefit of all nations.
"We five countries should open more to each other, expand converging interests in this process, take an inclusive approach and share opportunities, so as to create even brighter prospects for growing the economies of the five countries," he said.
As a responsible leader on the world stage, Xi reminded the forum of their international responsibilities. "The long road to global peace and development will not be a smooth one" as more than 700 million people are still living in hunger, tens of millions of people have been displaced and become refugees, while many people, including innocent children, have been killed in conflicts. He urged the BRICS countries as well as the international community to promote the implementation of the 2030 Agenda for Sustainable Development.
The proposal of "BRICS Plus", which aims to bring non-BRICS countries into the organization, is very realistic. In recent years, the impact of BRICS cooperation reaches far beyond the five countries, in particular, other emerging market and developing countries. Citing a Chinese proverb, "It is easy to break one arrow but hard to break 10 arrows bundled together," Xi said, BRICS should promote the BRICS Plus approach to build an open and diversified network of development partners. Surely, the BRICS Plus model can turn the BRICS mechanism into a broader and more inclusive platform, through which more emerging economies can have dialogue and deepen cooperation.
In his speech, Xi referred to Belt and Road Initiative  which has turned to a crucial component of boosting interconnectivity through impressive infrastructure works since 2013. Xi said Belt and Road Initiative is not a tool to advance any geopolitical agenda, but a platform for practical cooperation. "I am convinced that the Belt and Road Initiative  will serve as a new platform for all countries to achieve win-win cooperation and that it will create new opportunities for implementing the 2030 Agenda for Sustainable Development," he said. No doubt, the Belt and Road Initiative  has offered much inspiration to the world in the past four years.
Xi got a round of applause for calling on BRICS countries to adopt a holistic approach to fight terrorism in all its forms and ensure that terrorists have no place to hide. "I am convinced that as long as we take a holistic approach to fighting terrorism in all its forms, and address both its symptoms and root causes, terrorists will have no place to hide," he said.
He also offered solutions to the world's terrorism problems. When dialogue, consultation and negotiation are conducted to create conditions for achieving political settlement of issues such as Syria, Libya and the Palestine-Israel conflict, the flame of war can be put out, and displaced refugees will eventually return to their homes, he said.
He also described the long and arduous journey that China had taken in 40 years of reform and opening-up and China's readiness to take leadership in driving global growth for the benefit of not just China but all peoples of the world. Under the leadership of the Communist Party of China, the Chinese people have embarked on the development path of socialism with Chinese characteristics. Despite hardships and challenges, China has become the world's second-largest economy, the lives of its 1.3 billion-plus people have been significantly improved, and China has made increasingly greater contribution to both regional and global economic development.
Xi's Xiamen speech points out a new path for building a community of shared destiny for humanity, which would serve as a lighthouse to illuminate the world. His speech has significantly signaled to the international community that today's fast-rising China has earned the right to play a leading role in shaping the global order. Undoubtedly, he has unveiled a new horizon, opened up a new world of peace and prosperity, harmony and happiness and initiated a new political and economical world order.
Rabi Sankar Bosu is secretary of New Horizon Radio Listeners' Club in West Bengal, India.