President Xi calls for closer BRICS economic cooperation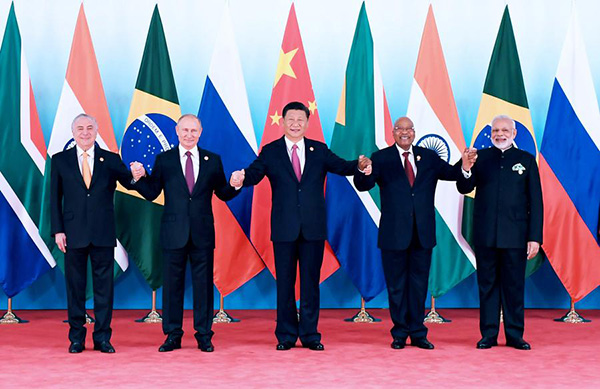 Leaders of BRICS countries pose for group photos after the ninth BRICS summit in the eastern city of Xiamen, Fujian province, Sept 4, 2017. [Photo/Xinhua]
XIAMEN - President Xi Jinping said Monday that BRICS countries should endeavor to promote practical economic cooperation while addressing the opening of the ninth BRICS summit in the eastern city of Xiamen, which was also attended by leaders of Brazil, Russia, India and South Africa.
Despite the achievements the bloc has made, the potential for cooperation has yet to be fully unleashed, Xi said.
The five countries' foreign investment totaled $197 billion in 2016, but only 5.7 percent took place between BRICS members, the president said.
With profound and complicated changes taking place in the world, cooperation among BRICS countries becomes all the more important, President Xi added.
He said the BRICS countries should increase cooperation in sectors such as trade and investment, monetary and financial areas, connectivity, sustainable development, innovation and industrial cooperation.
President Xi Jinping also called on BRICS countries to synergize their development strategies to stimulate each member's growth potential.
The five countries should find areas where their respective development policies and priorities converge, and work to build a big market for trade and investment, achieve smooth flow of currency and finance, and realize infrastructure connectivity, Xi said.
Funding for BRICS co-op
President Xi also announced in his opening speech that China will set aside 500 million yuan (about $76 million) for economic and technological cooperation and exchanges among BRICS countries.