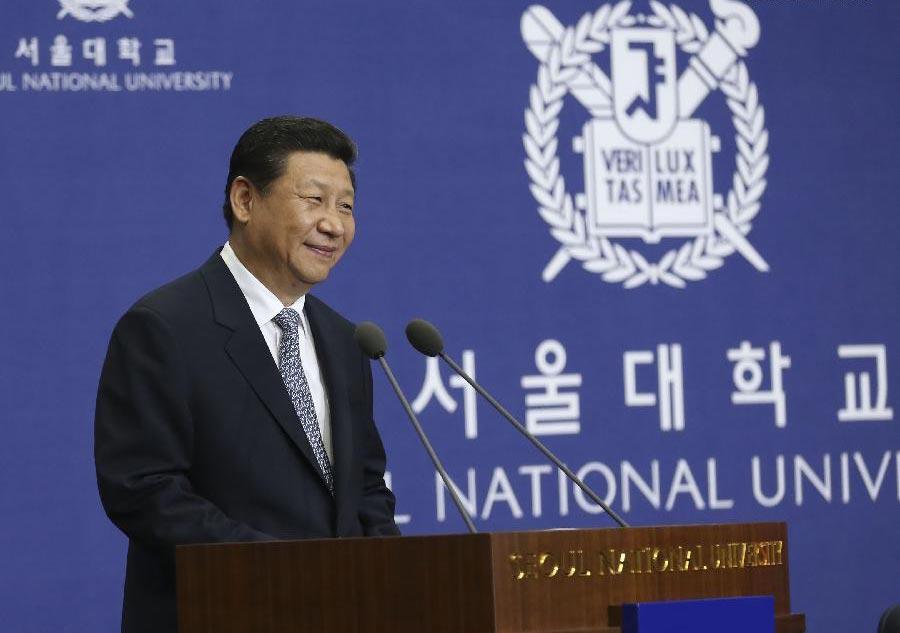 Chinese President Xi Jinping delivers a speech at Seoul National University in Seoul, capital of South Korea, July 4, 2014. [Photo/Xinhua]
SEOUL - Chinese President Xi Jinping ended a state visit to South Korea and left for Beijing Friday evening.
After he arrived in Seoul Thursday, Xi held a meeting with his South Korean counterpart, Park Geun-hye. Xi made a four-point proposal to enhance cooperation in political security, economy and trade, people-to-people exchanges as well as regional and international affairs.
According to a joint statement issued after the meeting, the two countries vowed to endeavor to finish the negotiations on a bilateral free trade agreement before the end of 2014 and expand trade volume to 300 billion U.S. dollars in 2015.
Both countries will celebrate the Year of Chinese Tourism in South Korea in 2015 and the Year of South Korean Tourism in China in 2016, the statement said.
To elevate bilateral personnel exchanges to 10 million in 2016, the two sides welcome a consensus on the text of an accord on waiving visa for service passport holders and decided to negotiate to gradually expand the visa-free coverage, it added.
China and South Korea also signed a deal Thursday to launch a renminbi clearing service in Seoul and boost cooperation between their central banks.
Besides, the two countries reiterated their joint position of denuclearization of the Korean Peninsula, calling for efforts to create conditions for resumption of the stalled six-party talks.
During a meeting with National Assembly Speaker Chung Ui-hwa on Friday, Xi said China and South Korea share similar experiences in history and common concern as both nations are calling for a correct attitude toward history.
When meeting with Prime Minister Chung Hong-won, Xi called for the two countries to enhance cooperation in service industry, new material and new energy resources, increase mutual investment and consolidate coordination in macro-economic policies to jointly counter international financial risks and promote reform on global economic governance.
In a speech delivered at Seoul National University, Xi said China and South Korea have become genuine strategic cooperative partners, ushering bilateral ties in the best time of history.
Besides, Xi attended along with Park a forum on China-South Korea economic and trade cooperation. He also visited the exhibition of products displayed by South Korea's Samsung Group and LG Corporation.
The two-day visit was Xi's first to South Korea since he took office last year.