At a meeting meant to emphasize a crucial relationship in the world's new economic order, it was traditional Chinese clothing that stole the spotlight.
China's President Xi Jinping and his wife Peng Liyuan attended a state banquet in their honor in Amsterdam on Saturday with both wearing time-honored Chinese attire. Xi wore the famous Chinese men's suit known as Zhongshan, and Peng wore a long, traditional dress covered by a cloak adorned with embroidery.
The Zhongshan suit is known for its four front pockets and short, precise collar. It is a popular outfit for Chinese leaders while attending important occasions and foreign visits.
Sun Yat-sen, the leader of China's 1911 Revolution, first introduced the suit and Mao Zedong later popularized it after the founding of the People's Republic of China.
Four pockets with flags are symbolic of the suit and represent four important Chinese values: propriety, righteousness, integrity and honor.
The lapel and collar represents the strict attitude Sun brought to administering the country. The back of the suit is made of one piece of cloth, signifying the country's unity.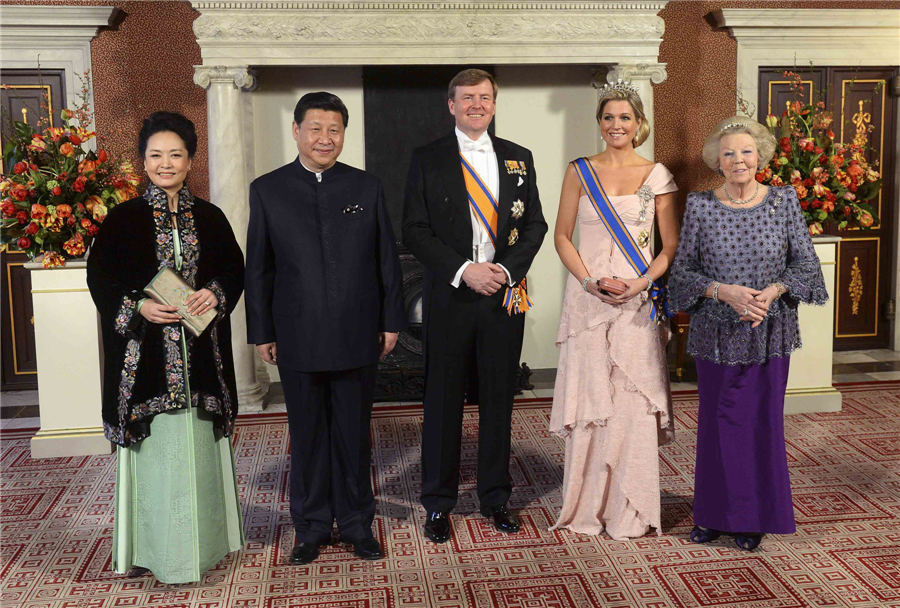 China's President Xi Jinping and his wife Peng Liyuan (L) stand next to Dutch King Willem-Alexander (C), Queen Maxima (2nd R) and Princess Beatrix for the official photo at the Royal Palace in Amsterdam March 22, 2014. Xi was wearing the Zhongshan suit, a popular dressing option for Chinese leaders attending important occasions and foreign visits. Chinese First Lady, Peng Liyuan, wore a long, traditional dress covered by a cloak adorned with embroidery. [Photo/Agencies]