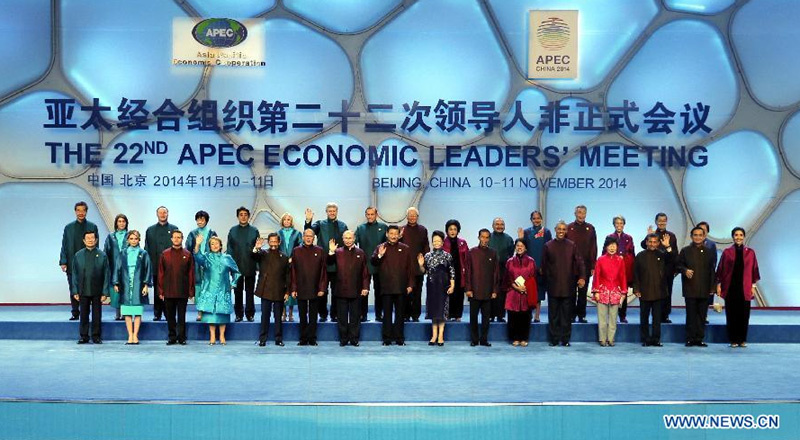 Chinese President Xi Jinping and his wife Peng Liyuan pose for a group photo with leaders of economies attending the 22nd APEC Economic Leaders' Meeting and their spouses, ahead of a welcome banquet in Beijing, capital of China, Nov 10, 2014. [Photo/Xinhua]
BEIJING -- Chinese President Xi Jinping on Monday outlined four expected achievements of the Asia-Pacific Economic Cooperation (APEC) meetings held in China this year.
The first achievement will be the launch of the Free Trade Area of the Asia-Pacific (FTAAP) process, which points out the direction for Asia-Pacific cooperation, Xi said when speaking at the dialogue between APEC leaders and representatives of the APEC Business Advisory Council.
The second achievement will be the issuance of a statement on the 25th anniversary of the APEC, which draws on past experience and sketches out the future vision, he told the gathering.
As the third achievement, the meetings will promote innovation, reforms and growth to seek new momentum for long-term development of the Asia-Pacific, he said.
Fourthly, a blueprint will be made to lay a solid foundation for all-round connectivity in the Asia-Pacific, said the Chinese president.
Noting that the Asia-Pacific faces both significant opportunities and various uncertainties, Xi urged the APEC to "add firewood to the fire of the Asia-Pacific and world economy."
China is wiling to work together with other APEC members for an inclusive and all-win partnership that features mutual trust and cooperation, he said.
Commenting on the FTAAP, Xi said it does not go against existing free trade arrangements, which are the potential pathways to realize the FTAAP goals.
The FTAAP can be the "aggregation" of existing free trade arrangements, and the aim of pushing forward the FTAAP process is to consolidate the regional integration and define long-term goals, the president noted.
He also hailed the moves of setting up the Asian Infrastructure Investment Bank and building the Silk Road Economic Belt and the 21st Century Maritime Silk Road, saying they will benefit all parties.
Speaking of the Chinese economy, Xi expressed confidence in finding balance between growth, restructuring, people's welfare and reforms to foster steady and long-term development of the economy.
"For China, the 'middle-income trap' will definitely be crossed. The key is when it will happen and how to move forward better after that," he said.
China will continue growing at a medium-high speed and improving the quality of its economy as the country steps up reforms, restructuring and innovation, the president stressed.