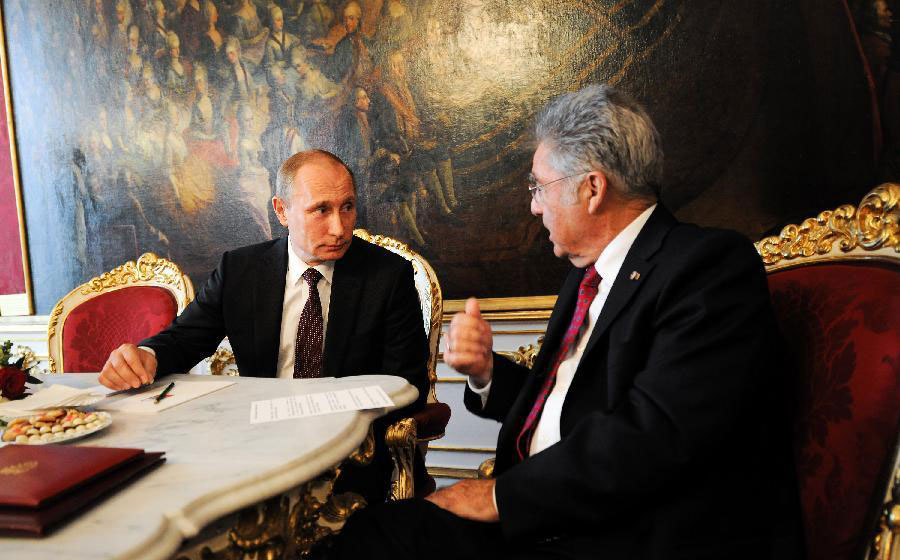 Austrian President Heinz Fischer (R) meets with visiting Russian President Vladimir Putin in Vienna, Austria, on June 24, 2014. [Photo/Xinhua]
VIENNA - Russian President Vladimir Putin on Tuesday evening wrapped up an official visit to Austria, as his talks with Austrian officials centred on the
Ukrainian crisis
and the South Stream gas pipeline.
Following talks with Austrian President Heinz Fischer at the Hofburg Palace in Vienna shortly after his arrival in the afternoon, Putin told a press conference the talks had been constructive and detailed.
Putin and Fischer both spoke for an extension to the seven-day ceasefire declared by Ukrainian President Petro Poroshenko and agreed upon by anti-government forces in eastern Ukraine.
Putin said the ceasefire must lead to substantial talks and concrete measures toward resolution between Kiev and the anti-government groups.
He said the militants had only armed themselves after the Maidan supporters in the west had done so first, during what he called the illegal toppling of the Yanukovych government, and as such the forces in the west must also be disarmed, not just the militants in the east.
Additionally he said Russia will continue to support "ethnic Russians" and all those with a strong attachment to Russia, for which he hoped armed forces would not be needed.
His decision to renounce the mandate to send Russian troops into Ukraine to protect that minority did not mean the situation no longer mattered to Russia, he added.
Fischer, meanwhile, spoke out against criticism over the visit, saying Austria was always willing to hold dialogue with partner countries, and that there is a need to keep communication channels open even during difficult times.
He stressed the need for a peaceful resolution and said sanctions against Russia were not an effective means of resolving the dispute.
He also called for more dialogue, saying he believed it was better to have too much than too little.
He said, however, that Austria would see an accession of the Crimean peninsula as being against international law, something he could not find agreement with Putin over during the talks.
Both sides though spoke favorably of the finalized agreement earlier in the day on the construction of the Austrian arm of the South Stream gas pipeline, something Fischer said had not been an official part of the visit but happened to match its timing.
He deflected criticism of its construction in light of the Ukraine crisis, stating that if NATO members Bulgaria and Hungary were allowed to have much longer sections of the pipeline than Austria, then Austria too should be allowed to partake in the project.
Later in the evening before his departure, Putin addressed at the Austrian Federal Economic Chamber, where he said no country should fear being dependent on Russian gas, and spoke instead of a "reciprocal dependence" that is a "foundation for stability."