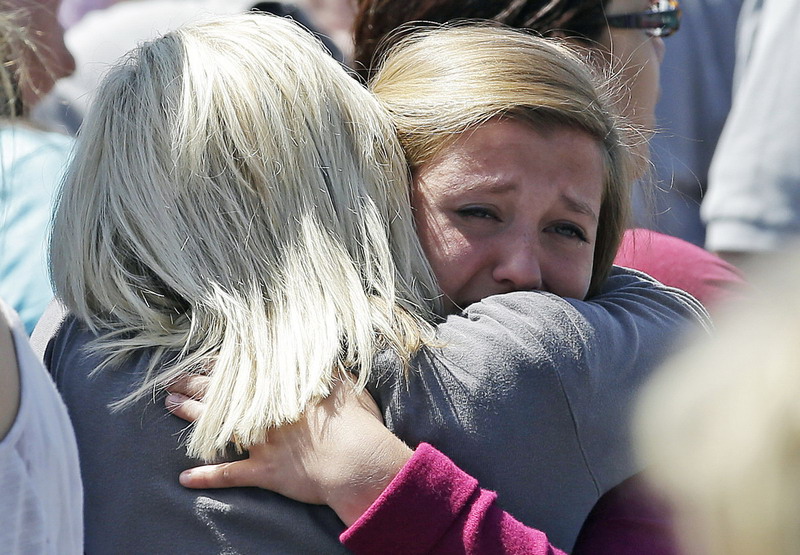 A student cries on her mother's shoulder after a shooting at Reynolds High School in Wood Village, Oregon, June 10, 2014. [Photo/IC]
TROUTDALE - A gunman walked into an Oregon high school with a rifle and shot a student to death on Tuesday before he was later found dead, in the third outbreak of gun violence to shake a US high school or college campus in less than three weeks.
Reynolds High School in the middle-class Portland suburb of Troutdale was immediately locked down, then evacuated room by room as law enforcement and emergency personnel converged on the campus of 2,800 students, which had been scheduled to hold its last day of classes on Wednesday before the summer break.
"A gunman entered the high school this morning, shot one student. Unfortunately, that student has died," Troutdale Police Chief Scott Anderson told a news conference. "The gunman was located and the gunman is also deceased."
A teacher was treated at the scene for non-life-threatening injuries, and there were no immediate reports of additional injuries.
Authorities have not publicly named the gunman nor said how he died, but USA Today cited a police spokesman as saying the shooter was a teenager who shot himself to death in a bathroom stall following the attack.
Portland's Oregonian newspaper reported the gunman had opened fire in the school gymnasium before running into the bathroom to take his own life.
The violence in northern Oregon was the latest in a string of fatal shootings in US public places since May, including one at a Christian college in neighboring Washington state last week in which one student died.
'SENSELESS' VIOLENCE
Television footage at the Oregon school showed police officers in helmets and tactical gear, stepping from armored vehicles and running near the school's perimeter with rifles. Students streamed out of the school with hands raised.
"Today, Oregon hurts as we try to make sense of a senseless act of violence," Oregon Governor John Kitzhaber said.
A few miles from the school, students bused from the campus were being reunited with anxious parents in the parking lot of a shopping center.
"I'm glad it wasn't worse," said Rachelle Rueschenberg, a mother clutching her ninth-grade daughter, Maddy.
Two girls from the high school, sisters Kadejah and Deondra Nixon, said that police were asking students whether anyone had ridden a bus to school with a student carrying a guitar case.
Kadejah Nixon said she did not hear gunfire because the shooting was in a different wing of the building, but recounted an announcement over the public address system that urged students to go to the nearest classroom and close the doors.
"'This is not a drill, this is serious, get into a classroom,'" she quoted the announcement as saying.
Police said that during a search of the school after the shooting they found a gun on another person, which they believed to be unrelated to the violence. That person, who was not identified, was taken into custody.